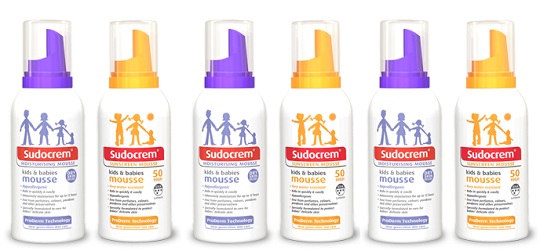 Sudocrem Sunscreen Mousse and Sudocrem Moisturising Mousse are two new products from Sudocrem, the makers of the nappy rash cream every self-respecting parent has at least  heard of, and probably tried.
Sudocrem Sunscreen and Moisturising Mousse feature something called ProDerm Technology which means that the mousse mimics the skin's composition to moisturise and protect the outer layer, and work as a barrier cream too. It is specially designed for babies and toddlers and is said to be very gentle on their skin.
The Kids & Babies Sunscreen is a factor 50 Sunscreen Mousse which meets the skincare experts' recommended four-star UVA protection mark, promising a superior defence agains the rays that can cause longer-term damage.  Formulated without colourants, perfumes and preservatives (despite having an almost two year shelf-life) Sudocrem claim that the product contains 'no nasties'.
The Moisturiser, they say, can keep your child's skin healthy and moisturised, especially on the parts exposed to the cold air or wind, such as the face, neck and hands. They also recommend you apply moisturiser before and after swimming to act as a barrier to prevent chemicals drying out the skin as the Mousse provides a barrier against chlorine, salt, sand and wind burn.
Looking at the two products separately, the Sudocrem Moisturising Mousse for kids and babies dispenses fantastically.  It comes in a spray can (think spray cream?) and is dispensed with absolutely no mess or fuss.  Knock it over during application and it's not going to spill everywhere. Lid comes off in your handbag? Well, you might have a spray of foam, but it's not going to be near as messy as a lotion.
The mousse it isn't cold when it comes out the can, which is a big bonus when working with children and especially babies. It also rubs in super quickly, and absorbs into the skin within seconds – again, fantastic for children who aren't generally keen to sit around waiting for cream to absorb.
Sudocrem have said that the mousse is free from perfumes, colours, parabens and preservatives and is suited for gentle skin. This is where my problem with the product comes in – and I will state in their defence that we have a family history of skin issues, allergies and pretty extreme sensitivities – but I don't really feel that it is suitable to children with allergies. The list of ingredients is chemical rich, with butane being top of the list (after water) followed by the likes of Palmitic Acid and Propane – none of which are particularly kind to sensitive skins.  The addition of chamomile and aloe seems almost an afterthought as they are the two least represented ingredients. If you don't have sensitive skin, and don't much mind the chemicals, it'll be fine, but if you do, test it on a small section of skin first – in fact the website recommends testing it on a small patch of skin 24 hours before using it on the whole body.
But how does it work?
Well, it does leave the skin feeling moisturised, and soft. I can't say that I was aware of the effects for a whole 12 hours, but then I'm not a baby or child and I change nappies and wash dishes and a bunch of other stuff that involves washing my hands multiple times a day.
While it is 'perfume-free' it isn't smell free. It smells like the foam parties of my youth.  'Nuff said about that.
Sudocrem Sunscreen Mousse shares many of the same properties. For example, it dispenses easily and mess free, it absorbs quickly, and doesn't leave a greasy residue – but it is ever so slightly sticky initially.
It is also said to be scent free, but it definitely has a strong smell immediately on application. The smell does dissipate very quickly, however.
From a mum-to-babies-with-sensitive-skins point of view, the list of ingredients is rather unpronounceable, and long, but from the ease of use and absorbency point of view, it's really good. I also like that it doesn't leave enough of a film to make sand stick to you.
Both products are available from Boots and independent and online pharmacies, with the Moisturising Mousse costing £8.99 for 150ml, and the Suncream costing £14.99 for 150ml.
The Good
It's easy to use, mess free and fuss free
It absorbs really quickly
The Sunscreen has no discernible smell
Product is not tested on animals
Can is 90% recycled aluminium and is recyclable after use
Cost is pretty standard for similar products for children
Free from colours, perfumes, parabens and preservatives
The Bad
For me and my family, I can't get past the list of ingredients. Particularly Benzophenone-3, which the EU Cosmetics Directive states has to be listed in the safety advice on the product if more than 0.5% of it is used in the product, but I can't find any information on how much is used – apart from the fact that it's the first ingredient after water, which indicates that it's the second highest amount. There have been warnings, however, that Benzophenone-3 should not be used in products for children.
I have a huge issue with the fact that the Sunscreen is called a product for 'kids and babies' but their own website says it's not to be used on babies under six months – yet there's absolutely no mention of this on the can. How many of us check the website before we use a product?
The Verdict
I am well and truly stuck securely on the fence about this product. There are things about it I like, and things I really don't. I haven't tested it on my allergy prone children, and I'd suggest anyone in the same situation, think twice. The good things about the product are lovely, but are they good enough to overcome the 'nasties'? Not for me, they're not.