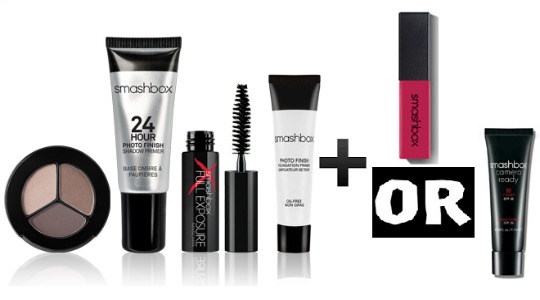 Make up can be so expensive and when it comes to the good stuff I am extra cautious. How many times have we bought a cheap cosmetic item for it to 'not suit our skin' or to 'look hideous'. Smashbox is a range that you will find in selected Debenhams and other High Street Stores. They aim for flawless camera proof make up so think of how beautiful you can look on those Facebook selfies. They are selling a pack of four bestsellers in their Try It Kit all for £19. Plus you get FREE delivery and a choice of a FREE sample.
What's in the Smashbox Try It Kit? Photo Finish Foundation Primer 7ml, Full Exposure Mascara 4ml, Photo Op Eye Shadow 1.2g and Photo Finish 24 Hour Shadow Primer 4ml. Plus you get to choose from Smashbox Camera Ready BB Cream SPF 35 Deluxe Sample 7ML or Be Legendary Lip Gloss Disco Rose.
When it comes to make-up, I am a bit of a brand floozy. I flit from brand to brand and don't stay loyal to any. Each brand has something special to offer and for Smashbox that's their Photo Finish Primer. I have used it with cheap foundation and with expensive. It helps your foundation stay put and acts like a barrier between make-up and skin. Honestly, try it for yourself!