Skin Wisdom, the skin care range from Tesco, is celebrating its 10th birthday. In celebration of this, Skin Wisdom has been refreshed and re-launched. Bharti Vyas, the renowned holistic and wellbeing beauty expert who helped develop the products, says, "The new ranges bring together a collection of 34 exceptional products. The age indicator takes the guesswork out of skin care so you know what ranges will suit you. These new additions enable women to concentrate on individual features ensuring that every part of the face is given the care it deserves."
That sounds fantastic, so we sent a test package to Tamara, mum of one, to trial for us.
The first item Tamara tested was the Skin Wisdom Youth Protect Wipes.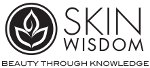 "These are soft and tingly and smell fantastic", she said. "The are really good at removing make-up and your skin feels clean when you're done." She would advise using a toner anyway just to be sure you've got everything, but feels that they're ideal for travel. "If you're away for the night and don't fancy schlepping your entire regime around with you, these wipes are perfect. You only need one wipe per night really, although I don't use heavy make-up and so don't have a lot to remove."
Next up was the Age Delay Deep Wrinkle Concentrate. It came in a gold tube with clear instructions on how to apply it – although Tamara did make me laugh when she moaned about the font size of these instructions. "The instructions are in a tiny print which, for a cream aimed at older women, is hardly useful!"
The need for a magnifying glass making her feel older aside, Tamara liked the Age Delay Deep Wrinkle Concentrate. "The lotion dabs on nicely and absorbs really well leaving a light sheen behind. It doesn't disappear entirely but it isn't excessively oily either. I like this one a lot and have found my eyes look a lot less bedraggled since I started using it about two weeks ago."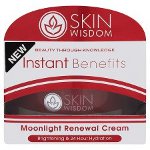 The Skin Wisdom Moonlight Renewal Cream, looks, according to Tamara, " bobbly". In other words, "it was a bit wet and sort of clumpy." (Yes, we were grateful for the explanation of 'bobbly' too!) A little further into the tub the consistency was better, but it is a thick and very heavy cream and definitely meant for night time. While Tamara loved the smell, she did think it was a bit sticky and heavy. "I would put this as a great night cream for anyone on a budget but it still had my skin feeling a bit tight afterwards. And, the big minus, is that a couple of hours after application it sort of rubbed off in weird little clumps. Like peeling skin after a bad sunburn. Not a lot, mind, but enough to make me think twice about it. Not a keeper."
Moving on to something she liked a whole lot more, Tamara tried the Skin Wisdom Age Delay Treatment Serum next. "This serum is lush. It applies to the skin like silk and velvet. It is so creamy and luscious that I want to eat it." This serum is applied before your moisturiser and after your toner. It absorbs instantly, and is good value for money as one squirt will cover all the areas. Tamara loved it. "It leaves your skin feeling really silky. I love it and would definitely buy it again and again."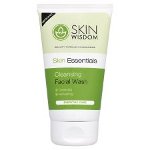 The Skin Wisdom Face Wash sent to Tamara was a winner too. "This is a very gentle and pleasant wash with no granules or harsh textures. It foams up quickly and spreads really well. It cleans beautifully without making my skin feel excessively dry, more so that my usual anti-aging face wash actually and this is a youth one for younger skin! I like the smell and the way a little goes a long way."
For not so young skin, there's the Skin Wisdom Ultimate Lift Eye Cream and Tamara loved this too, calling it "the stuff of dreams". She felt that her eyes really did look less tired and black underneath than they had before. "I don't care if that's in my head, if it works for me I am happy to keep on using it. The cream has a lovely smell too.  I have used the eye cream with the serum and the moisturiser for a fantastic feeling skin all day."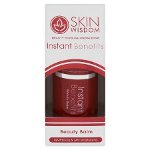 Skin Wisdom Instant Benefits Beauty Balm comes with a warning on it telling you to get more sleep, a warning Tamara doesn't always heed. As a work at home mum, she often works late at night when her daughter is sleeping. "This is the cream you use when you've been up all night with baby (or working) and your skin is tired and dry and fed up with your bad behaviour. It will boost your skin with extra moisturiser and make it look like it had a good nights sleep. I can't say that I saw any major difference between it and the others but I did get compliments when I used it after a wedding this weekend."
And the final product we sent to our tester was the Skin Wisdom Ultimate Lift Face and Decollatage Serum. "Another of the potions to protect and stop the ageing of your sensitive skin areas, this serum is another silky delight that I could happily use all day", says Tamara. It is very very luxurious to apply and feels fantastic, she told us, but unfortunately it also suffers from the same strange peeling thing that the moisturiser does. "It seems to leave a residue that then flakes off during the day. You won't see gigantic flakes or anything, obviously, but you can feel them if you run your hands along your skin. I would buy it again regardless, though, because I really like the way my skin feels after I've used it."
So, there you have it – the full verdict on the Skin Wisdom range from Tesco. Those we haven't linked above aren't available yet, but do keep an eye out for them at Tesco, because they'll be out soon, for prices ranging between £1 and £7.