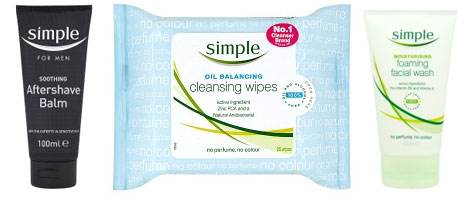 I've always loved the Simple skincare product range, and Lloyds Pharmacy have some great Simple deals on at the moment.
Did you know that Simple have been around for 50 years?! 50 years!!
They started out in 1960 with an unperfumed, uncoloured bar of soap which was recommended by doctors for sensitive skin.
Next came their three-step cleanse, tone and moisturise products and now, now we have a huge range of things to choose from: Simple Sun, Simple Baby, Simple Derma, Simple For Men, Simple Kind To Skin, Simple Regeneration, Simple Repair and Simple Radiance to name just a few!
Do you remember the Simple advert from y e a r s ago, it's the one that really stuck in my head, where a robot arm airbrush paint spray thing sprays a beautiful white cala lily hideous colours and then squirts it with perfume? I do.
Anyway, Lloyds Pharmacy - have five pages of Simple products; most are on offer, some are not. So if you're a Simple fan then this might be a good time to stock up, this sort of thing also makes for good stocking fillers too!