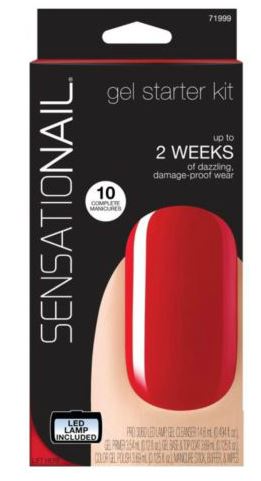 Boots are selling the SensatioNail starter kit for £45, instead of £69.99, saving you a not-to-be-scoffed-at £24.99. It's an online only offer, so no picking this one up on your way in to work on Monday.
I am incapable, it seems, of keeping my nails looking in any way decent. Even when I fork out for a decent manicure, a shelac or whatever, it's just a matter of days before they start looking rough and erm... not ready... again. A friend of mine bought one of these SensatioNail kits, as she said two regular treatments had cost her about the same as the whole kit, so after that it was all savings, and her nails always look amazing - you'd certainly not know she had small children!
The kit contains everything you need for awesome looking nails:
Gel Cleanser 14.6m
Gel Primer 3.54
Gel base/top coat 3.69m
Gel Polish 3.69m
Pro 3060 LED Lamp
There are 3 easy steps for a super high gloss shine and no dry time, thanks to the LED Lamp.
When your 10 manicures from the kit are up, you can just simply purchase the Essentials Kit and the colour/s of your choice (there are 12 shades to choose from) and you are good to go again. Fabulous.