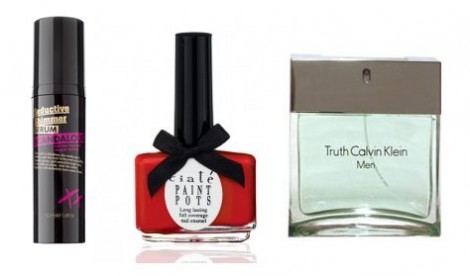 With Valentines looming dangerously close, we've gathered together a few great items to test out for you. We sent our findings to PlayPennies mum Hajong to see what she thought.
We sent out the Seductive Shimmer Serum and the Ciate Paint Pots.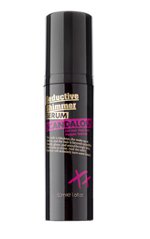 First off is the the Seductive Shimmer serum for hair (£5.99 available from Superdrug stores – and currently it's 2 for £6.99), which has glossy kukui nut oil that "leaves the hair with a gorgeous shine without leaving it heavy and flat", according to Hajong. Apparently it also contains citronella to neutralise odours, although citronella is so strong I find this hard to understand!
"I am rather taken aback by this" says our PlayPennies mum. "I mean, it is nice to have nice smelling hair after a night out but I've never actually seen a hair odour neutralising agent in a hair serum before. The serum smells delicious though. So if it neutralises smoke and food, that can only be a good thing. I am smitten with the smell actually. Often hair serums can really smell chemical or weird, this smells so yummy I could put it on toast."
There's no glitter in the Seductive Shimmer Serum, but you Hajong says your hair shines in a delicate shine that really appeals to her. She says: "I have very short hair and it needs quite a bit of styling to ensure that I don't look insane and the styling wax has a tendency to make my hair look flat - and I don't mean as in flat like down I mean as in dull. Styled nicely, but dull. SO when I applied this stuff it immediately lifted the shine and made my hair look stunning."
It lasts a while, as you don't need much and too much can make your hair look dirty and oily as opposed to lustrous and shiny.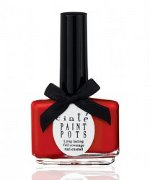 Ciate Paint Pots (£9.00) are a fancy name for nail enamel. The shade Hajong received was called "Mistress". She wasn't overly impressed. "The nail enamel is called mistress and with good reason. It is the most insane colour of red that I've ever seen. I am SO not putting it on my nails. I would look ridiculous. This is a very personal colour choice and not one I would make". So perhaps a better purchase for Halloween than Valentines, unless, of course, Mistress is your thing.
The nail enamel does seem to be pretty good quality though. "I used it on my toenails as they are allowed to be a bit wild and the polish has been there for about two weeks now.", says the PlayPennies mum. "It is good polish actually. A cheap polish starts to look faded and bedgraggeld after about a week. Chips appear and you look like you've never had a pedicure after 10 days. at 11 days the Ciate Paint Pot polish was starting to chip and fade, but it wasn't looking excessively shabby."
Cheapsmells offers, as the name suggests, are in the smelly stuff. They currently have quite a few fragrances on offer until Valentine's Day.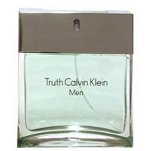 For example, CK Truth for Men is £16.90 with the code Truth3 which gives you free postage. This scent is described as an aromatic, sensual, woody fragrance, accented by aromatic basil (YUM!! - on food, anyway) and fresh cardamom.
CK Contradiction is a 'daytime' scent for women and has a blend of pepper, rose, satin wood and sandalwood. It RRP's for £39, but on the Cheapsmells Valentine's special it is only £15.95. This is a £23.05 discount amounting to a 59% saving.
There is a massive list of fragrances available to choose from, and until Valentine's day you can also have your purchase gift wrapped for 99p.
The only problem is that with Valentine's day on Monday, you're not going to get these in time if you order with standard postage. You'll have to order today by Special Recorded Delivery and with any luck you'll receive it by 1pm on Monday, but this cannot be guaranteed. So even if you can't order for Valentine's day, you can still take advantage of the special offers for any birthdays or special occasions that might be coming up or even just because.
And finally,
Hajong loved the Seductive Shimmer Serum. Her final words on it are, "It is gorgeous if applied sparingly and I am a total convert. Delicious." On the nail enamel she says "I'd give this an easy 7 out of ten. It loses points for colour."