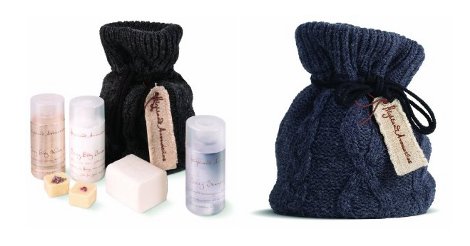 There's 50% off this lovely looking gift set from Amazon, reducing a £14.99 gift to a mere £7.49 – not bad for a quality set, I think.
Scottish Fine Soaps have this Highland Aromatics Woolly Bathers bag gift set, which includes 100ml Dewy Body Wash, 100ml Silky Body Lotion, 80g Soothing Soap Bar, Heather Travel Candle, and two Lavish Bath Melts in a knitted drawstring bag.
Scottish Fine Soaps have been formulating, designing and manufacturing products in Stirlingshire Scotland for over 35 years. "We take our inspiration from the breath taking natural world on our doorstep and pride ourselves in creating stylish, aromatic products that provide real benefits for the skin and promote well-being for the mind and body," says Scottish Fine Soaps.
Reviewers liked the fact that it came in a bag that could be used as a toiletry bag, and that it was very well presented, but others had problems – understandably – with the fact that some items were swapped out without notice.
Overall there were good ratings for it and it's a good price for a nice gift set.