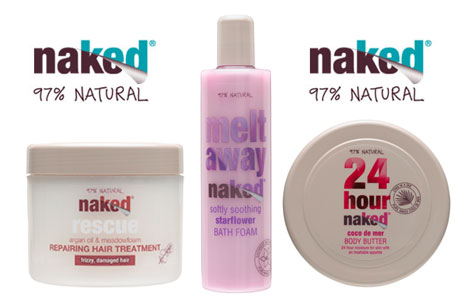 It's cold outside, the central heating is blazing inside; Christmas is looming large on the horizon and there just don't seem to be enough hours in the day to get everything done!
I don't know about you but the stress of organising a successful Christmas, the  constant cold-to-hot-to-cold-to-hot of going in and outside plays havoc with my hair and skin.
My hair ends up resembling straw so much, it could be dyed blonde and used in the manger for the school nativity scene! My skin goes dry,  it gets tight and starts to feel a little 'old' for my liking.
I'm assured I'm not the only one, so when we were contacted by Naked Bodycare and asked if we'd like to review some products which would not only combat all these things, but also give us an excuse to relax in a hot bath, unwind and escape the pre-Christmas madness...well, we weren't going to say no!
It was a wrench to part with the Naked Bodycare products that arrived, if you had smelled the 24-hour Naked Coco de Mer Body Butter you'd know why.
But part with them we did and sent them off to PlayPennies mum, Sadie and her daughter Ella to unwind with on our behalf *sigh*

"You don't need to ask me twice to leap in the bath and test out pampering products," says Sadie, "so armed with a book, a glass of wine and the Naked Bodycare goodies, I made my way to the bathroom to do justice to them all!"
We weren't jealous.
"I put in the plug, turned on the hot tap and poured some Melt Away Naked softly soothing starflower bath foam underneath it. OHHH the smell! It was heavenly!"
We weren't jealous.
"On the back of the bottle it says: Starflower seed oil is softening and cleansing to skin and has long been used by women who believe it helps with 'women's problems' and irritability," Sadie continues, "and after the day I'd had, I figured I'd better stay in the bath for a l o n g time!"
Sadie would have also read that Naked Bodycare products don't contain any sulphates, parabens or petrochemicals, instead they're packed with naturally derived ingredients.
In addition, Naked Bodycare say 'we don't believe in testing our ingredients on Bambi, Lassie or Skippy' - we were all very pleased to hear it.
"Whilst the bath was running, I quickly washed my hair under the shower and, as per the instructions on the Naked Rescue Hair Repairing Treatment tub, worked a generous scoop of it through my hair," Sadie enthused (we weren't jealous), "wrapped my head in a warm towel, sank into the warm water and starflower bubbles, read my book and drank my glass of wine. THIS was just what the doctor ordered!"
Ok, we were jealous!

"I am completely in love with the Coco de Mer 24-hour body butter," reveals Sadie, "it took me by surprise; I was expecting it to be almost light and a bit like a creamy mousse, but it was really firm to the touch - it'll last forever."
We were a little concerned that, based on what Sadie had said, it might be heavy and leave your skin greasy. But Sadie assured us that it wasn't at all.
"It's definitely not over the top or greasy, it's just lovely. It also smells a lot like Opium perfume so if you don't like that, or creams that are quite heavily perfumed, then it might not be for you."
THAT'S what it reminded us of, we couldn't put our finger on it - Opium perfume!

"I was a bit disappointed with the results of the hair repair treatment," confesses Sadie, "it sorted out my straw hair, but left it feeling heavy and, also, not as shiny as I'm used to after using hair treatments. I wondered if it was because I'd left it in for too long, so I gave it to Ella to try and told her to leave it on for the right amount of time."
Ella's 15 and has similar hair to her mum's - her experience with the hair repair treatment was the same.
"It doesn't leave your hair greasy," tells Ella, "it's just not 'light'...it's heavy and my hair looked a bit dull compared to how my usual conditioner and hair treatments leave it looking."
And finally...
So apart from the Naked Rescue Hair Repairing Treatment, which retails for £7.99, the Melt Away Naked Starflower foam bath (£3.99) and the Coco de Mer 24-hour Body Butter (£4.99) were big hits.
"Overall I really like the Naked Bodycare products," concludes Sadie, "the price is just right for using regularly but still feeling a bit special and as for that body butter, well...I can't get enough of that!"
Incidentally, the body butter had won a 2010 Natural Health Magazine beauty award and contains coconut oil, shea butter and passionflower extracts. It's also vegetarian, but not vegan friendly - the other two products are both.
Naked Bodycare products are available from www.nakedbodycare.co.uk or Boots stores.
We were totally jealous!