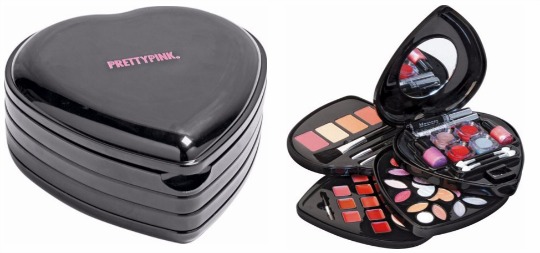 Looking for a gift for that tricky teenager? This make-up set could be just the thing, and it's a bargain price as well. The Pretty Pink Heart Shaped Cosmetic Box and Make-Up Set was priced at £12.99 but is now only £6.49 at Argos.
This cosmetics set is aimed at teenagers, and contains loads of different make-up goodies that make it ideal for experimenting with new looks and different colours, plus it folds away all neat and tidy into it's cute heart-shaped box.
This set includes 8 lip glosses, 1 lip pencil, lip oil, 1 eyeliner, 21 eye shadows, 4 eye shadow creams, pressed powder puff, 4 blushers, 2 nail polishes, 4 applicators/brushes and 1 pencil sharpener. That's an awful lot for £6.49!
You can use the free reserve and collect service from Argos stores, or home delivery will add another £3.95. Stock seems very widely available right now but the website is running a little slow right now so if you are having trouble then keep trying.
Thanks to gazz33