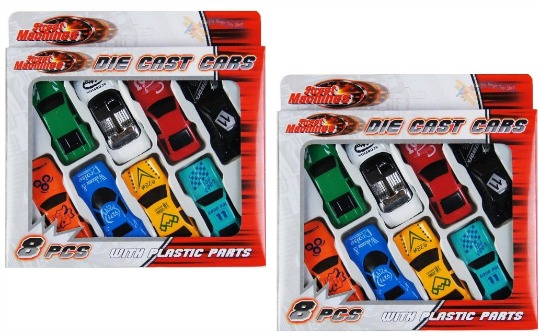 I used to play with my brother's cars more than he did when I was little. This will surprise some people since I have always been regarded as "girly", it's living proof that kids will be kids, regardless of sex and play with any toys. If you have a little boy or girl who loves to play with cars then this Playset of Eight Die Cast Cars is for you. Sold by Amazon Seller: CKONE, they are only £1.78 and that's including FREE delivery.
The Playset of Eight Die Cast Cars is ideal for making up party bags, or party games prizes like Pass the Parcel. This set has good reviews online. They aren't Hot Wheels quality, but at £1.78 you would be hard pushed to get that.
The box says "with plastic parts" I assume this would be the wheels and possibly any fancy bits on them. They are all different and come in a variety of styles like convertible for example.
These are definitely a must for little car enthusiasts. You could always buy a Play Mat* to go with it too.