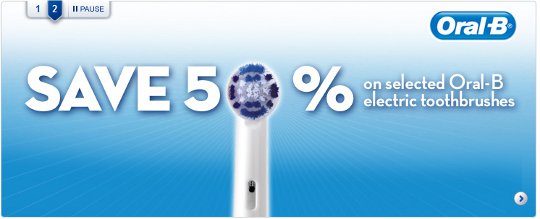 Oral-B have 50% off all their electric toothbrushes at Boots at the moment.
I remember reading somewhere that most people who switch to electric toothbrushes never go back to manual. I must admit, I can't imagine going back after finally making the switch a few months ago. My teeth just feel so clean after a brush now.
They are quite pricey though, which is why it's nice to find a sale. At 50% off, it becomes rather more affordable.
Priced from £17.49 for theOral-B Vitality Precision Clean Electric Toothbrushto £49.99 for the Oral B Professional Care 3000 Electric Toothbrush which comes with three interchangeable heads and a charging station with a built in brush stand.
For children there are the Disney Princess toothbrush or the Disney's Carstoothbrush, each for £17.49. The children's toothbrushes have timers to indicate a minute at the top and a minute at the bottom, and extra soft bristles for gentle care of children's gums.