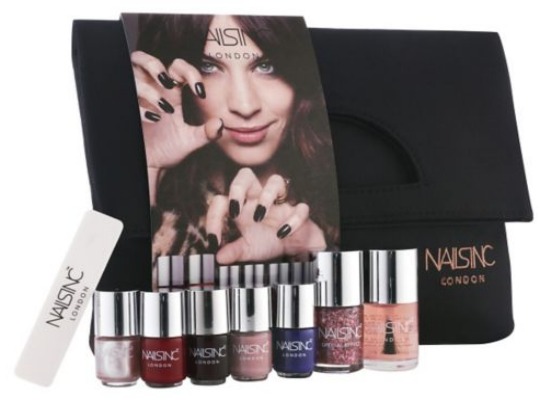 If you know someone who is fashion conscious or likes to do their nails then chances are they have heard of Nails Inc. Nails Inc are a good quality nail polish brand but unfortunately come with the £££ price tag. Boots.com have an exclusive set by Nails Inc, reduced from £42 to just £15. The Nails Inc Ultimate Accessory Gift Set is most certainly a must for any nail polish lover or bargain hunter.
Inside the Nails Inc Ultimate Accessory Gift Set is four Mini Nail Polishes (these last you more than you'd think they would), one Rose Foil Nail Polish. one Full Size Special Effect Glitter Polish, One Full Size Kensington Caviar 45 Second Top Coat and a Nail File, all packaged up into a Limited Edition Nails Inc Clutch Bag.
I am actually a qualified Beauty Therapist and I highly rate Nails Inc, in fact I reckon that this Nails Inc Ultimate Accessory Gift Set is a bargain. Just visit you local Nails Inc concession in John Lewis or Debenhams and you will see how much the items would be individually.
Plus you will be sent two FREE premium beauty samples when you purchase this, these are thought to be a sample of Clinique Foundation and Liz Earle Cleanser.
Collect it for FREE from your local Boots or pay £3.95 for home delivery.
Thanks to marywalker @ HUKD