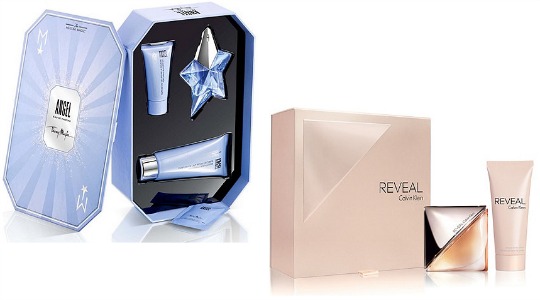 Hands up if you love getting perfume for Mother's Day. Meeeeeeeeeeeeeeeeeeee! I do! The price of perfume is just creeping up and up so thank goodness to retailers that have sales or seasonal reductions. Just now at Debenhams you can find several perfume gift sets reduced, and it's not all celebrity fragrances either. There's your likes of Thierry Mugler Angel and more. Plus spend £40 and get a £5 gift card FREE. Use promo code SHA5 at the checkout to get FREE home delivery.
Anyone who knows me will tell you that I am utterly obsessed with perfume. You smell nice, you feel nice....that's my motto anyway. Even if you ave to point out what Mother's Day gift you want. It might be quite nice to let the kids choose what they want you to smell like.
Two of my favourites are reduced at Debenhams and they are a popular choice with a lot of women: Thierry Mugler Angel Refillable Gift Set* reduced from £51.50 to £38.62 and Calvin Klein Reveal for Her* reduced from £52 to £26.
You will accrue points on you Beauty Club Card too with your purchase. Remember if you are buying something that's just below £40 to top it up to get your £5 gift card.