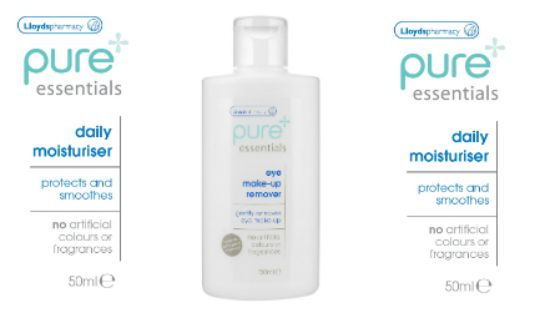 Buying Skincare Essentials can be a pricey event especially when you have teenagers that steal it off of you on a daily basis. I have super sensitive skin so I really have to watch what I use on it to avoid nasty reactions. Lloyds Pharmacy do a range called Pure Essentials and they are free of artificial colours and fragrances. The Moisturiser and the Make Up Remover are reduced from £1.49 each to just 37p each. Stock up now!
Since these two Pure Essentials Skincare items don't contain irritants like artificial colours and fragrances, they are a fairly safe bet for most skin types. I would say at 37p a pop they are most definitely worth a try.
Even if you grab a couple of bottles of the Make Up Remover for taking off Halloween Make Up or Face Paint. They aren't tiny bottles either, they are full size. The Moisturiser is 50ml and the Make Up Remover 150ml.
You can Click and Collect your Pure Essentials bargains for FREE from a Lloyds Pharmacy near you or pay £2.95 to have it delivered to your front door.