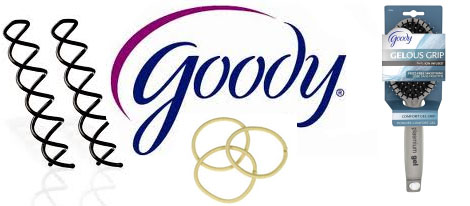 I love anything to do with hair and girly things like that, so I was really looking forward to hear what our PlayPennies mum, Sam, thought of the Goody Hair products we sent her to review for us!
We sent Sam a  Goody Gelous Grip Cushion Brush (£6.98), 15 Ouchless hair bands (98p) and some rather interesting looking Spin Pins (£4.98)
"I have a teenage daughter and I knew I wasn't going to get much of a look-in when the Goody Hair products arrived - she was delving into the envelope before the posty had even had a chance to let go of it!" laughs Sam.
""Oooooh a hair brush!" she said, "OOOOH HAIRBANDS!!!" she exclaimed...."what are THESE? They look COOL!" she said, when she saw the Spin Pins. And with that everything disappeared upstairs to her bedroom."

Sam managed to retrieve everything from her daughter's room, eventually, and told us about the Gelous Grip Cushion Brush first.
"Call me old fashioned, but a hairbrush is a hairbrush isn't it..? I mean how much 'technology' can they really have? This one has a handle that's covered in a soft and squidgy 'memory gel' type material...I wasn't aware that my ordinary hairbrush handle was uncomfortable and needed gel-cushioning!" says Sam.
"But apparently, this is very 'cool' and all my daughter's friends at school are rather enamoured with it; much ooohing and aaaahing over it went on by all accounts," she continues.
According to the official info, the 'gel stuff' is called 'plasmium' and the ball-tip bristles are Ion infused to make your hair shiny, glossy and frizz-free.
So do they do all of that?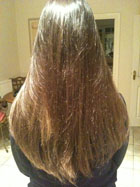 Well, Sam's daughter certainly thinks so and sent pictures to prove it.
If you have a girl who loves all of this sort of Ion speak and squidgy handles, then judging from the reaction this received amongst the teenage girls, they'll love it!
"I swear I live in on some sort of fault line or lay line that causes hair bands to vanish into thin air," continues Sam, "I have NO idea where they all go and I dread to think how many we go through in a year!"
I

remember, back in the day, when hair bands were joined together at the end with metal - very BAD apparently!
The trend now is to have hair bands (or gentle elastics as Goody call them) without metal as these are much kinder to your hair.
"I can't really tell you much about the hairbands," says Sam, "again, hairbands are hairbands.  But I can tell you that they are just about the right size - two twists make them nice and tight, but not too tight, if you have lots of hair and three are enough if your hair is layered."
And how many do you have left Sam? "Erm....seven! There are a couple in the car, a couple in my daughter's bathroom and one on my desk...I have no clue where the others are!" sighs Sam.

We were all intrigued by the Spin Pins and Sam kept us in suspense, telling us about them last.
"The spin pins are AMAZING.  They say they do the same work as 20 ordinary hair grips or bobby pins...and they do!" enthuses Sam.
"I haven't played with my daughter's hair for years, but we did have fun messing around with them; she also jumped and danced around when her hair was up so we could see just how well they'd hold - shame I didn't think to video it, it would have been fanstastic for future blackmail purposes!"
Essentially the Spin Pins are a double helix shape (think DNA), you pull your hair into a ponytail and then twist into a bun, or whichever style you fancy,  then twizzle one Spin Pin into the top and the other up from the bottom and TA DA!!!! One hairstyle that stays put...even with lots of thrashing to heavy metal by all accounts.
These were certainly a favourite with Sam and her daughter.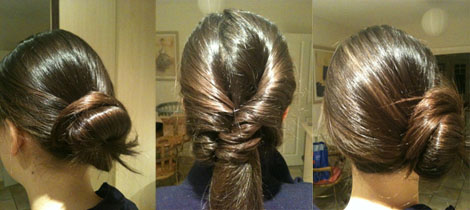 And Finally...
The prices of all of the Goody Hair products are just about right, in my opinion," finishes Sam, "you can't go wrong with 15 hairbands for 98p and the brush...well, whilst I thought it was a bit gimmicky, my daughter loved it and it now has permanent residence in her school bag.
As for the Spin Pins, they are just brilliant, we had lots of fun experimenting with different styles using them."
So there you go; if you fancy having a go with some Goody Hair products of your own, they are available from Boots and Asda.