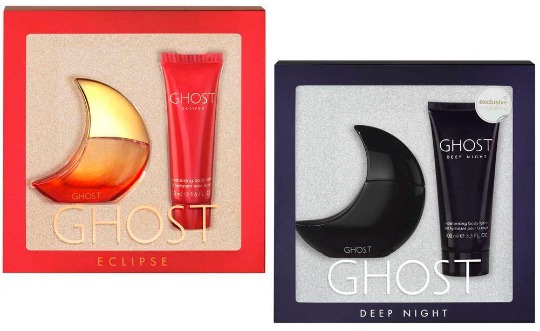 January can make us all feel a bit crumby, so why not cheer yourself up with a little, affordable treat. Will your other half even notice if you have another perfume on your dresser? Superdrug have reduced the prices of the Ghost Fragrance Gift Sets from £34/24 to just £15. There's three different ones to choose from: Eclipse, Sweetheart and Deep Night. Delivery is FREE on these sets too.
These three Ghost perfume gift sets contain two pieces: a bottle of Eau De Toilette and a Body Lotion. Ghost Deep Night is the best value, since you get a 50ml bottle of the Eau De  Toilette. Eclipse and Sweetheart contain just 30ml.
Ghost are known for making very popular perfumes. These three are very different from one another. Sweetheart is for someone who likes vanilla, sweet smelling fragrance like Anna Sui Dreams. Ghost Eclipse is very fruity and is a great for those of you who don't want anything to heavy. It's a great one for teenagers too. Deep Night is a lot more serious than the other two, and surprisingly my favourite. It has a slight musk to it and can be likened to Hugo Deep Red.