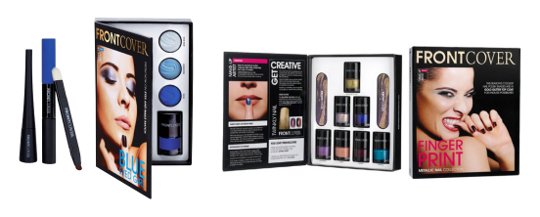 FrontCover is a pretty awesome range of make-up and hair and nail accessories made specifically to complement the colours and fashions of the Autumn/Winter 2011 catwalks.
There are gorgeous items available in this range and we were sent two sets to PlayPennies HQ – the FrontCover Finger Print set and the Blue Eyed Girl set.
Firstly, I can tell you I simply love the presentation of these. My daughter calls them books, because they look like hard cover books, or good old-fashioned video covers. They are sturdy boxes, and really look like a quality product.
The Finger Print set is a box consisting of seven nail polishes and two nail files.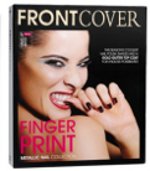 About ten years ago I was a big fan of nail polish and would change my nail colour every single day. I wore all sorts of colours – everything from orange to purple and everything in between, sometimes wearing different colours at the same time. Times changed and I rarely even have the time to paint my nails these days, but when I do I find it frustrating anyway, as it's rare to find a nail polish that lasts very long with the demands of motherhood.
The colours in this set are very vibrant – they're not your shrinking violet, don't notice me kind of colours, and I can't imagine I'd use them all often at this stage, but they are certainly fun colours.
There are a couple of things that really impressed me though.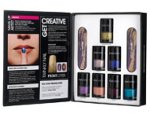 Firstly, the durability. For example, I applied two coats on Thursday evening, attended a function on Friday evening with perfect nails after a day of domestic drudgery, and a party on Saturday. I did quite a bit of cooking and baking on Saturday too, and by Sunday, the tips of my nails were losing colour. Admittedly, by Monday my nails were looking worse for wear – once it started looking like I needed a touch-up, it deteriorated really quickly, but still, I was really chuffed with how long it lasted in the first place.
Secondly, the cost. The set costs £14, which means you're  paying less than £2 per colour and have two nail files included.  If you consider the kind of polish you normally get for that price, I'm even more impressed with how long it lasts.
The inside 'cover' of the set  has great tips on application, for example recommending a different shade be added to one of the nails on the hand for a different look.
While I might never use the Gold Glitter colour, except perhaps for Halloween fancy dress, I'm stil impressed at the price and quality and think it's worth it even if there's one or two I pass on to a friend.
There's another set I didn't get to try, called Brush Works for £20  which allows you to take nail art even further with awesome nail decoration items.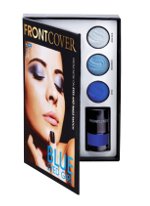 The second set I tried was called Blue Eyed Girl. This  was predominantly eye make-up with a matching nail polish included. The Sparkling Midnight nail colour is by far my favourite of all the ones in the kits I received. It's just a totally 'me' colour.
The rest of the kit is not so much. I applied  the colours as directed, but didn't end up looking like the model on the front. I really just looked like the 80's had spat me out. The colours on their own or blended with colours that are 'me' are fine though.
The last long too – I didn't need to retouch at all during the afternoon/evening event I wore it to, which I liked. Specifically because the main negative of this set is that while you can take the brushes, the mascara and the nail polish along in your handbag, you can't take the eye shadow. They don't come with lids or containers, so if you take them out the box, you have an uncovered mess, which really doesn't work for me.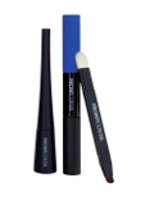 Another thing I didn't 'get' is the Shadowline. It's a  clear liquid that you mix with a bit of the eye shadow to create an eyeliner, but I can't say it worked particularly well for me. I just ended up with goop that didn't look like I had any eye liner on. I'd have preferred just a standard eye liner, but then maybe I just don't know how to use it properly.
The double ended eye applicator is great, as is the double-sided mascara.
At £12 I again think it's incredible value, especially if it's a colour-scheme you can pull off. If not, there's a set called the Packing Case, which as more 'natural' colours.
Overall, these sets are good value for money, and while they'd make gorgeous gifts, they're something you could certainly treat yourself with too, without breaking the bank.