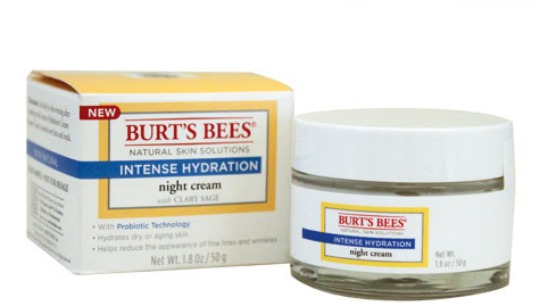 Fancy a treat for yourself that's absolutely FREE of charge? If you have never tried Burt's Bees skincare before then now is your chance. If you have Facebook, click the link below and you can claim you FREE sample of Burt's Bees Intense Hydration Night Cream  The first 5000 people to apply for this FREEBIE will receive a sample in the post.
All you need to do is fill in the form on the Burt's Bees Facebook page and hopefully you will be in the first 5000. The Burt's Bees Intense Hydration Night Cream is infused with Clary Sage, so please check with your midwife that this is safe to use if you are pregnant.
It's made from 99% natural ingredients and here's what Burt's Bees have to say about it:
it's scientifically proven to provide intense hydration ( used as part of the 5-step Burt's Bees Intense Hydration regimen)and helps naturally increase your skin's ability to retain moisture. It also helps reduce the appearance of fine lines and wrinkles. So you can wake up to skin that feels soft, supple and smooth.
This Night Cream is £19.99 for a 50ml jar, but I think you will receive a pouch only. It's nice to test something like this out first without committing £20 of your money to it.
Thanks to daydreamer44 @ HUKD