Fake Bake Hair Straighteners £12.99 @ HalfPricePerfumes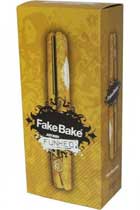 They say you attract what you think about most (yeah, that winning lottery ticket still hasn't rocked up!), I was about to google around for a cheap pair of decent straighteners when an email from Half Price Perfumes landed in my inbox with a Fake Bake hair straigheners offer! 'Mazin!
So, this is a bit of a step in to the unknown for me. I'm a VERY loyal GHD straighteners fan. I love them!
WITH them, I'm a glossy straight-haired goddess, WITHOUT them...I'm more like the Wild Woman of Borneo!
I spend a fair bit of time in various places overseas and, until my straighteners start earning airmiles too, it's easier to leave a pair behind in each place so I don't have to pack them every time I go away.
BUT much as I adore my GHDs I REFUSE to buy another two sets that I won't be using every other day, SO I'm going to give these Fake Bake hair straighteners a bash (perhaps I'll write a mini review about them and let you know how they compared!).
They come in two colours - gold and pink, I'm torn here - gold isn't really my 'thing'...neither is hot pink! But for £12.99, instead of £30, and with free delivery from Half Price Perfumes, does it really matter?!
Apparently they aren't just another ceramic straightener, oh no! They use, and I quote, 'Tourmaline to generate negative ions and infrared heat to manage and control hair. Where traditional stylers use aggressive heat to force hair to conform, these stylers are a breath of fresh air for you hair!'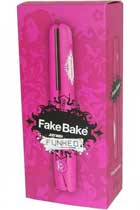 Well it all sounds good to me and for £12.99 as long as they banish the Wild Woman of Borneo then it's all good.
To get free delivery on these Fake Bake hair straighteners, just enter FUNKME at the checkout (be careful writing that!) and this would be a good time to pick up any other bits and pieces you've been looking at to take advantage of the free delivery code.
I've decided on the gold ones, I think...