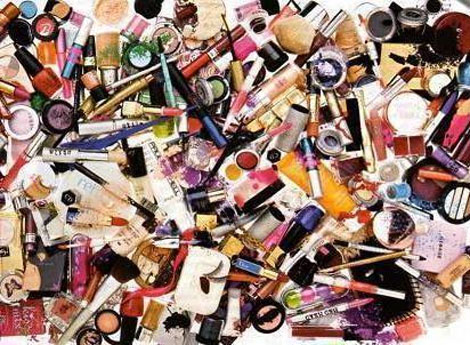 I'd never heard of e.l.f cosmetics before so here's a little bit about e.l.f's ethos and what they're aiming for with their brand.
We at e.l.f. believe that innovative technology, quality ingredients and superb delivery systems should not be limited to prestige retailers.
Every woman should have the opportunity to participate in innovation, without sacrificing her budget. Our cosmetics are designed to improve and accentuate the individual, not hide her away.


They also say that they manage to keep the costs down by using the power of the internet, rather than the more traditional, and incredibly expensive, forms of advertising.
Their products have some impressive endorsements from beauty editors at GMTV, This Morning, Hello!, Marie Claire, Glamour, Grazia and The Times.
When we were sent a selection of e.l.f goodies to review we handed them over to a mother and teenage daughter duo to try out and put to the test.
"We were very excited at the prospect of new make up to play with," said Sadie, the mother of our pair, "I tend to be fairly brand loyal - No7, Nivea and L'Oreal - but I'm always willing to try something new."
"I don't mind what I use," Ella told us, "as long as it 'works' properly and doesn't make my skin break out in spots!" The most important of all teenage priorities surely!
They were sent - an Earth and Water mascara duo, brightening eye liner, an all over colour stick, an all over cover stick, tinted moisturiser with an SPF 15 and claifying pressed powder.

"I was most interested in trying the mascara duo," Sadie told us, "because that's the one item I am most fussy about. I can't bear it when it's clumpy or makes my lashes stick together so it looks like I have about 4 fat ones."
"I was looking forward to the tinted moisturiser and pressed powder," commented Ella, "although I was intrigued by the all over colour stick too."
Sadie found that the mascara was ok but said she wouldn't be swapping it for her usual No7. Ella on the other hand thought it was great!
She said that it was very clever to have normal AND waterproof mascara at either end of one item, she felt it went on well and didn't smudge when she deliberately chopped onions and inhaled deeply.
Now that's the sort of dedication to consumer testing we like here at PlayPennies!
"The All Over colour stick had us bemused," Sadie confessed, "so much so that we paid a quick visit to the e.l.f website to see what we were supposed to do with it!"
They found out that it is a multi-purpose product that can be used as an eye, cheek or lip colour!
Neither Sadie or Ella were very impressed with this, "I felt it could have been softer to make it easier to glide over your skin, and I'm not really sure I want my eyes, lips and cheeks to all be the same colour," were Ella's thoughts.
"The brightening eye liner was nice to use, although I'm not sure how brightening it is compared to my normal liner. I even tried them together - e.l.f on one eye and my usual on the other...I couldn't see that one was any brighter than the other." Sadie went on to tell us.

The tinted moisturiser and clarifying powder didn't fare too well either.
Ella didn't like the smell, in fact she felt most of the products had a strange smell to them, not horrible...but just 'something', and Sadie felt that the powder was too 'heavy' which made them look very unnatural.
And Finally...
"We were due to go out after trying on the e.l.f products but I quickly took it all off and put my own make up back on before we went," Sadie revealed apologetically, "I'm clearly set in my make up ways now."
Whilst it seems on the surface that Sadie and Ella were not overly impressed with the e.l.f products they received, Ella did say that using them hadn't made her skin break out in spots and if the smell was better then she would have been happier.
She also said that for younger girls (ie, not her mum) who didn't have money to spend on the more expensive brands then e.l.f cosmetics would definitely be worth looking at.
"All of the items we were sent sell for £1.50 - which is an absolute bargain if you're trying to work out what products suit you best," said Ella, "making expensive make up mistakes is not fun, that certainly won't happen with e.l.f cosmetics even if you stumble across a couple of things you're not keen on."
Indeed most of the range is priced at £1.50, with the more expensive 'Minerals' range coming in at £3.50. Everything is available on their website and shipping is free if you spend over £30 - you'll get a lot of make up for your £30 that's for sure!