Dead Sea Products 25% Off @ Boots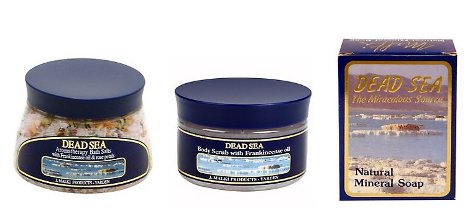 Good morning!
Welcome to 2011!
If the last few weeks have been a little rough on your body, and the toll is showing on your skin, you're in luck. The Dead Sea range from Boots is 25% off making it that little easier to feel fresh and new and get on with those new resolutions.
The range at Boots has the following to offer:
Dead Sea Sulpher Soap has antiseptic and purifying qualities which is reputed to help to relieve skin conditions such as acne and eczema. There are no artificial fragrances, just the goodness of the Dead Sea minerals – now £2.47
Dead Sea Aromatherapy Bath Salts are aromatherapy oils, rose petals, just a handful of salts scattered into the water transform your bath into a haven of relaxation – now £4.46
Dead Sea Natural Mineral Body Lotion will leave your skin feeling soft and refreshed – now £5.62
Dead Sea Natural Black Mud Mask, which can help heal skin ailments like eczema, acne, psoriasis, stimulate blood circulation and restore water to body cells.
Dead Sea Body Scrub with Frankincense Oil boosts circulation, smooths rough and dry skin - leaving skin silky soft and moisturised – now £5.24
Dead Sea Natural Mineral Shower Cream is an invigorating body wash with a mineral rich lather that simply washes toxins and impurities away - £5.24
and a few other variations on the themes above
Well, I feel almost good as new just writing about all that!
Wishing you the very best for the year ahead, and a fresh, healthy start to today!
Thanks to LaTerciaReal for posting this deal on HUKD