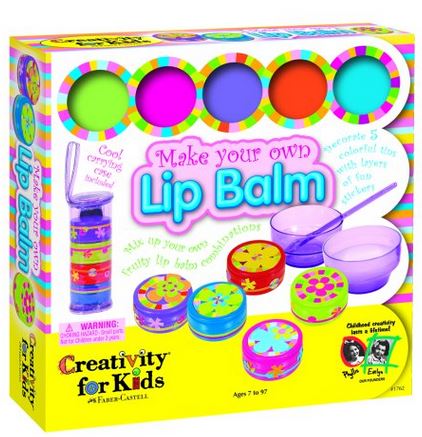 Amazon have a sale on loads of kids creative kits and crafts at the moment, so if you're thinking of stocking up for summer fun, it's worth checking out. One of the items on sale is the Creativity for Kids Make Your Own Lip Balm Kit, on offer for £12.75. The only other place I can find it is at Crafts4Kids for £15.94 including shipping.
Aimed at budding chemists from age 7 and up, this DIY lip balm kit will have you making your own lip balm base with a variety of flavours and sensations.
The instructions look simple enough:
Soften the base in a bath of warm water and then add the flavourings.
Mix up fun fruity combinations and add a hint of colour too.
It comes with cosmetic tins that can be decorated with layers of sticker designs and labels.
In the box you'll find 5 cosmetic tins, lip balm carrying case, lip balm base, 3 flavour colours-  citrus, cherry & berry, sticker sheets, stir stick, spatula and a melting container.
Sound like an afternoon of fun, and a great introduction to how these things are made.