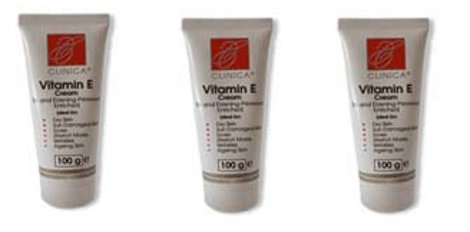 As I'm nearing the end of my first trimester, I've been taking particular care to moisturise and prepare my stomach for the carrying of our next baby. With my daughter I was very ill for the first twenty weeks and lost a lot of weight, so I didn't even look pregnant till almost the third trimester. It was only in the last few weeks that my stomach really grew, and a few stretch marks appeared. Those stretch marks still grace my abdomen now, so I've been using the Clinica Vitamin E Cream to help both heal the marks already present and hopefully prevent too many more.
The Clinica products look like expensive beauty treatments. They have a very professional appearance, and you'd expect to pay a lot more for it than you do.
The Vitamin E cream feels luxurious and rich, and as I don't have an overly dry skin at the moment, I don't have to reapply too often. Used as a face cream in the evening, I find my skin soft and hydrated looking – even the really dry patch around my nose and whereas I normally have to apply a day cream in the morning, else my skin feels really tight, I haven't had that need since I started using this.
Clinica do claim that this is an Anti-aging cream, and while I'm not feeling much younger at the moment, I do like how it feels on my skin, that it doesn't have a particular scent or aroma, and that it isn't very greasy at all, and absorbs beautifully.
If I compare what I pay for normal face cream alone, I think this is a lot of quality for a really very reasonable price (£3.00).