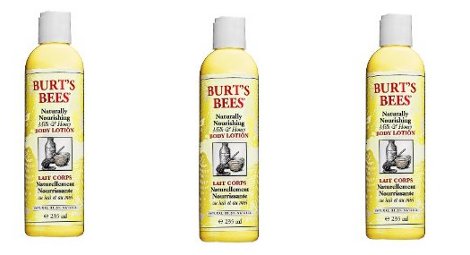 There's 50% off the Burt's Bees Naturally Nourishing Milk And Honey Body Lotion at Amazon until midnight on Sunday, after which it goes back to £11.74.
I haven't tried the Burt's Bees products myself, but PlayPennies Mum Tamara did a while ago, and Sarah wrote a review on it.
Tamara thought it was great, saying "I would say it is a great cream for kids as it's absorbed quickly, keeps the skin soft and doesn't have an overpowering aroma so is gender neutral."
Tamara also said "It lasts forever; just don't squeeze too hard or you'll end up lotioning yourself, your partner and possibly your neighbours too!"
According to Amazon, it is rich in sunflower, coconut oils and glycerine, and 'creamy milk joins hard-working honey to soften and smooth your skin.
Which really all sounds great to me.
In addition, it's the usual deal with Amazon's free delivery, and you can expect it in just a few days. It's a lovely sounding product at a great price!