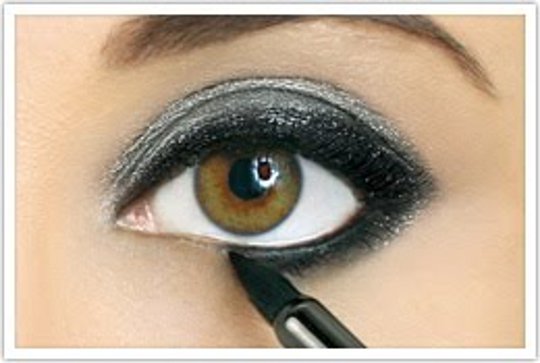 I'm one of those women. I used to wear make-up and do my nails all the time. I had functions, meetings, and customers in my day. Then I became a mum and "doing my face" became a long-stay lippie before tumbling out the car in the morning. On a good day, I might even throw in some mascara. But it's two years on, and I'm slowly finding my balance again, and that includes gearing up for the festivities of the coming months – and a bit more than lippie and mascara for a night out.
I thought I'd reach back into the recesses of my memories and try the Rocker Eye set from Bare Escentuals bareMinerals Tutorials.
This set is made for that smoky look the models sport in magazines. You'll get two eye colours – 1980s is a metallic grey and Rock Star is a sparkling dark smoke, or black, in non-make-up terminology.
There's also a liner shadow, called Black Leather, which is pretty much soot black, and a double-ended applicator brush.
So, the pros of the Rocker Eye set, first?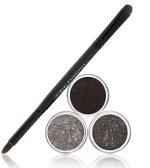 The pots have screw on lids, which I prefer over flip lids as they're less likely to open in your handbag. Second, they have a plastic layer between the lid and the actual product, with four little holes in it, so the make-up is released through that, rather than just being open and available – in other words if you drop it, or it does open in your bag, it's not going to be a massive mess straight away. You have time to salvage the situation. Bonus.
Another great feature is the instruction guide that comes as part of the box. It gives you a step-by-step guide to the 'soft rock' look as well as the 'heavy metal' look, and two application techniques, which I found rather useful.
The applicator brush is lovely. The bristles are possibly the softest I've ever used, but they're still sturdy, so it doesn't flop all over, but maintains it's shape. I was quite impressed by that, initially. There are some negatives to the brush, but I'll get to that later.
The eye shadows have a fair few things in their favour.
For a start, the bareMinerals eyecolours are free of preservatives, talc, oils, waxes, fragrance and other chemical irritants, which is great as red, puffy eyes on a night out kind of defeat the point.
They apply very easily – too easily, some would say, as you can end up with a cheek and dress speckled with powder if you use too much. After a very light application for day time, and a whole day's wear, I still needed make-up remover to remove the final traces of the eye shadow, which I found rather impressive.
The colours themselves really appeal to me, too.
Black Leather is used as a base colour, or with a wet tipped brush, as an eye liner. The 19880's colour is a silvery grey, which is very shimmery and Rock Star is very sparkly. If you can master the application techniques, it is all very beautiful, and definitely provides a gorgeous, smooth, night-time look.
The downsides?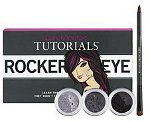 Well, I've already mentioned some of them. The major negative of the actual powders themselves is that they are very powdery, and if you put too much on your brush, it just goes everywhere – which is why the Swirl, Tap and Pat technique they teach is quite useful.
The brush, while being lovely, is also partly ineffective. The width of it is too narrow for a single, smooth stroke. I had to use a larger brush, which wasn't a problem, exactly, but it was a bit annoying having to dig one out mid application.
Another thing is that, as compared to some lighter colours, I didn't find I could just pop it on and run out – but that might just be me being out of practice. And it did take a couple of tries to get both a look that looked good, and one that looked the same on either eye!
All in all, I think it's a gorgeous set. At £27.76 – although it's £18.73 at QVC right now – it's not the most expensive you'll find, but certainly not the cheapest, although you can see that in how lovely it is to apply, and how long it stays put.
And, by the way, if you need some hands-on tutorials, there are a few on YouTube. Just search for bareMinerals Rocker Eye.