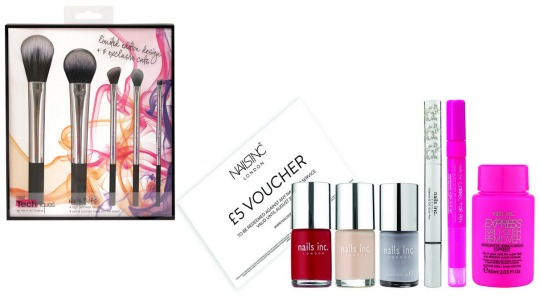 Amazon do a special Deal of the Day, everyday. You might not have realised that but they do. It's not always fantastic but today it's pretty darn good. If you are a daily make-up wearer then there's something for you or if you like to do your nails. With up to 70% off Cosmetics there are bargains to be had. There are only a handful of reduced items in this deal but they are pretty good.
The hottest items are most definitely the Real Techniques Brushes. There are three different items of this super popular Make-up Brush Brand to choose from. I am a cosmetics fanatic so let me tell you that I swear by these for putting on my everyday make-up.
If you spend £££'s on your make-up then you need these brushes. Application is EVERYTHING! This Real Techniques Nic's Picks Make-Up Brush Set* is just £15 delivered. It contains a good variety of brushes that will most certainly do for your whole face.
Nail lovers....you may want to check out this Nails Inc Pamper and Paint Collection with £5 Nails Inc Voucher*. It's only £20 today with FREE delivery included.