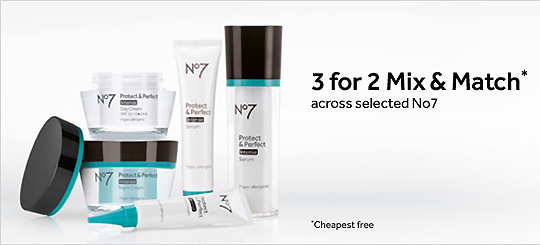 If you're a Boots No7 make up and skincare fan then you need to get yourself to Boots, either online or in person and snaffle up your favourite No7 things and take advantage of their current 3 for 2 pricing.
I went to Boots yesterday and had my skin tone measured and my foundation colour matched by the lady on the No7 counter - I'll tell you all about in a review shortly, but just now know that if you wear foundation you HAVE to go and have this done.
I've been a fan of No7 for years (I can't remember how many) and in particular their Protect and Perfect range, along with various make up bits and pieces and brushes - although brushes aren't included in the 3 for 2 offer, which is a shame because I've rather fallen in love with their foundation and concealer brushes which average out at about £10 each.
There are some No7 Lift and Luminate and Beatiful Skin products included too, if Protect and Perfect isn't your No7 poison.  I'll be heading back to my local Boots tomorrow now that I've assessed what I have, what I need, what I want and what is running out!  If I couldn't get into town then home delivery would be free if I spent over £40, which would be dead easy peasy!
Happy stocking up on No7