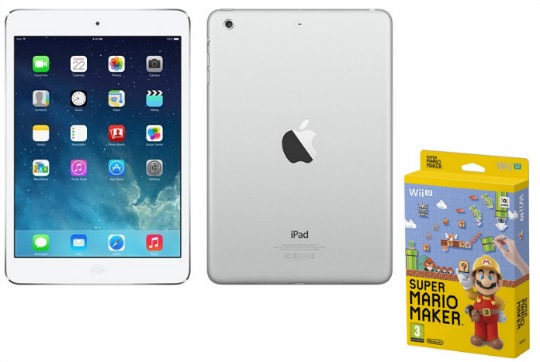 Still needing to buy that BIG Christmas present? Have a look over on Rakuten, where you can get a 10% discount on ANYTHING. That includes Hoverboards, iPads, Xbox Ones and anything else you may be on the look out for. To get 10% off, simply use OCTPAYDAY at the checkout. When using promo codes on Rakuten, you normally have to stick to the one seller.
Super Mario Maker* for the Wii U is tipped to be one of the games of Christmas 2015. We reckon at just £30.55 delivered, it's a great buy.
Looking for an iPad Mini? This 16GB iPad Mini with Retina Display* is only £180 delivered when you use the promo code at Rakuten.
It's not all Electronics and Gaming either, why not grab that bottle of perfume or that make up set? Just like this Benefit Primping with the Stars Set*. Use that promo code and get it for just £24.29 delivered. It contains Stay Don't Stray - Makeup Primer Light/medium 2.5ml, The Porefessional Pore minimiser 7.5ml, Some KindA Gorgeous Foundation Faker 3.5g, Girl Meets Pearl liquid Pearl for face 7.5ml, Benetint - Rose tinted Lip & Cheek Stain 4ml and They're Real Beyond Mascara 3g.