I'm a huge lover of Starbucks. In fact, it's pretty hard for me to walk past a Starbucks and not pop in for a Hazelnut Latte.  But now, with children, it's no longer a matter of walk over to the counter, get your drink and be on your way! No, no, no. They want the Innocent Smoothies at the start of the queue and by the time you've walked past the cakes, crisps and foods, you're stacked up to the hilt, and your card's out of credit. My daughter has just discovered sprinkles, and now she begs me for one of the snacks that's totally covered in them. The problem is, they're 3 marshmallows, covered in yoghurt and icing sugar and sprinkles. For £1.10, that's just madness.
So one afternoon last week I decided no more, and bought all the ingredients I thought I'd need for our own recreated Twizzle Sticks:
Marshmallows
Icing Sugar
Water
Sprinkles
Clearly there's no hard science to this 'recipe', and because my children are small and don't get masses of sweets, I decided to economise and give them one or two marshmallows each, rather than three.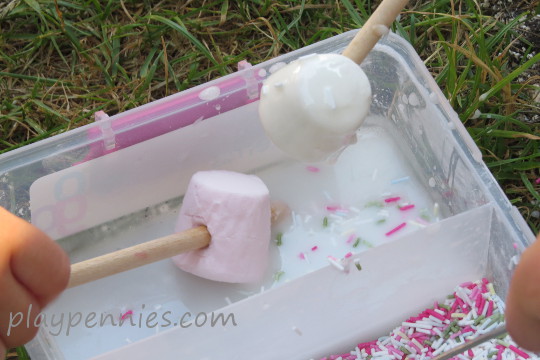 The instructions couldn't be easier.
Place marshmallows on a stick - a chop stick works well if you don't have lollipop sticks.
In one bowl, mix water and icing together as per instructions on packaging.
In a separate bowl add sprinkles, chocolate sprinkles, dots, or any other decoration you prefer.
Dip the marshmallows into the icing sugar, and roll into sprinkles.
Set aside to dry for a while, if the kids will let you, otherwise eat as is.
They love it, and it's a great messy play, outdoor-sy kind of perfectly summery activity.