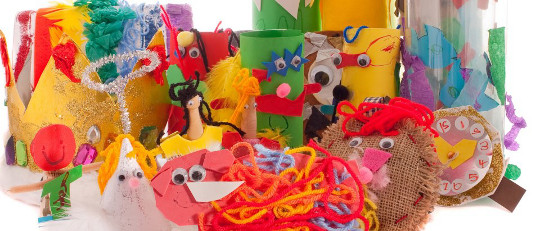 Christmas is over and New Years Eve with two little children isn't quite what it used to be, so what is there to look forward to in the doom and gloom of a looming January? Well, indoor craft activities, of course! But, what if you don't have much of a supply? Or the Grand children are coming for a visit? Or you're travelling? Then a subscription to Woolly Mammoth could be the ideal thing for you.
Woolly Mammoth is a craft subscription service whereby you'll receive a craft kit twice a month for a £9.90 monthly fee. The kit is sent to you complete with the things essential to the craft, but you are also sent an email a few days before your kit is due to arrive to tell you what else you'll need - scissors, glue and so on. Woolly Mammoth crafts are intended for children but to be done with adults, encouraging time together.
We received a kit with a Woolly Mammoth Club Badge, which seems to be the first kit everyone receives. A couple of weeks later, we received another kit, this time with Floppy and Fang the Flapping Bats.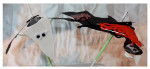 The kit comes addressed to the intended crafter, so if you're buying it for Nana and Johnny to do twice a month when she babysits, then it can be addressed to them just like that. It is packaged in a medium sized sandwich bag, with the instructions easily and readily available, with a suggested picture of the end result. There's also a step by step guide on how to make the craft.
The Club Badge kit comes with balls of coloured wool, 2 badge pins, wibbly wobbly eyes, card stencils, foam sheets, pipe cleaners, glitter, feathers and pom poms. (The additional items for this kit were scissors, felt tip pens, a plate to sprinkle glitter on and PVA glue or double sided tape.)
The Bats kit comes with similar goodies, including felt, straws, string, glitter and a few other bits.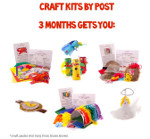 My daughter loved the eyelashes on the googly eyes, and she did enjoy the glitter - and turned crafting into messy play - but that's all in a day's work, really. There were more materials than were needed for the mammoth, so she was able to also make the parrot in the 'suggested' pictures. Technically, though, you could have enough in one kit for two badges for two children.
It's great that they aren't stingy with materials, and it also allows you to build up a craft kit with bits and pieces children love for your independent projects. I've reviewed other kits based on the same idea in the past, but with those they've included everything you need including glue, colouring pencils and everything. While that's great,  you risk ending up with hundreds of pencils, and loads of extra bottles of glue - which is all fine and well, but you pay it. With these kits, you're building up your decorative supply but not hoarding excesses you don't need.
The Good
Regular kits that come through your door craft ready means you don't have to put too much effort or energy into planning crafts, which often ends up taking longer than the crafts themselves
Good size projects mean you're not skimping trying to stretch the decorations to fit the task
Parcels are small so you're not paying excessive postage
It's one of the cheaper craft subscriptions I've come across, which is a bonus
Woolly Mammoth encourages time spent with your children, and if you don't have a particularly creative mind, it's great that you have a step by step instruction to help you

The Bad 
I thought the crafts were a bit simple, really, but my daughter really enjoyed it, and in the end she's the audience that matters here.
The Verdict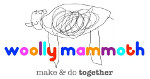 It's always going to be cheaper to head down to whatever pound shop and buy your own craft stuff and make crafts from scratch with your kids, but there is most definitely a time and place for kits such as these. Just off the top of my head, having them delivered to grandparents for a few weeks before your visit, or if you just don't have craft stuff and need to start somewhere, or if you're travelling and want them delivered to your destination, for example. There are definite times when something like this would be a huge convenience.
I think two sets of projects for under £10 a month isn't too bad, especially if (in a few years) I can stretch it to both children!