Earlier this year saw the launch of Pro Formula, a new beauty range which has been scientifically developed for Tesco*
Pro Formula is billed as being able to 'guarantee real performance where you need it most' which strikes me as quite a broad claim, but they basically mean that the Pro Formula portfolio includes a brand new skincare range featuring something to suit all skin types, whether dry, sensitive or combination. The Pro Formula Radiance range is for normal/combination skin and contains green tea to help prevent premature ageing, while the Pro Formula Hydration range is for dry/sensitive skin and contains oat extract to soothe and hydrate skin. Both are hypoallergenic and contain Vitamin E to protect and repair the skin.
We were sent three products to review. Two were from the Hydrating range; Creamy Face Wash for dry / sensitive skin and Night Cream for dry / sensitive skin, and one from the Radiance range; BB Cream for  Normal / Combination Skin. I can only assume that I must have normal / combination skin because the Radiance product has become a firm favourite of mine - something I'd go so far as to say I wouldn't leave home without. In contrast the Hydrating products just didn't do a lot for me, which I'm going to put down to the fact that I don't have the skin type that they're designed for. It's pretty hard to offer a balanced review of a product that isn't really 'meant' for you so without further ado let me get my comments on the Hydrating range out of the way, so that I can tell you how marvellous I found the Radiance product.
The Pro Formula Hydrating Creamy Face Wash for dry / sensitive skin (£2.00) is the kind of product that I'd happily use if I found it in a hotel bathroom but it's not an item I'd go out of my way to purchase. It certainly leaves your skin feeling clean and soft but it doesn't have enough wow factor for me to want to make it a a part of my daily skincare routine. As I've mentioned, I think this is probably due to the fact that it's intended for dry / sensitive skin so it's probably perfect for those who need something gentle but effective as a daily cleanser, whereas I like a little more oomph in a face wash. It's brilliantly easy to use though and I liked that you can slather it on in the shower without having to fiddle about with cleansing pads. It smells nice enough - again, I prefer something that packs more of a punch in terms of scent or even that has some pore-blasting exfoliating properties but if you need a gentle, effective, light cleaning wash then this is definitely worth trying. I also think it represents brilliant value for money.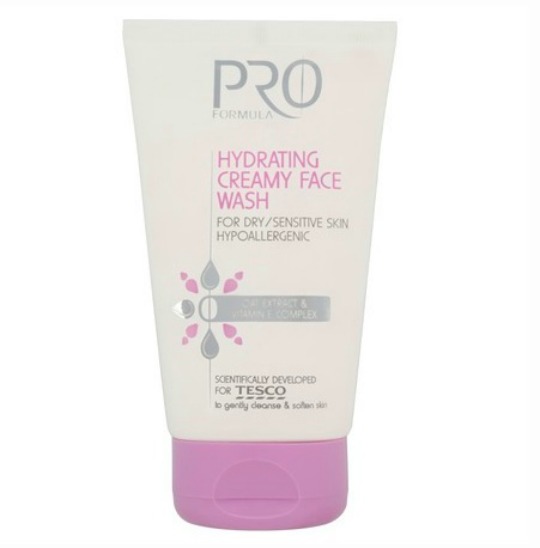 Next up, the Night Cream (£3.00) for dry / sensitive skin from the Hydrating range. This cream and I did not get on at all. The first day I used it I thought I'd found my new beauty must-have - it's thick and luxurious when you apply it to your face and it smells divine, but the next day I came out in what I assume was an allergic reaction to it. I persevered with using it for several days, assuming that my skin would soon adjust to a new skincare product, but eventually I had to admit defeat and declare this product an absolute no-no for me. I was surprised because it's hypoallergenic and designed for sensitive skin but it literally stung when I applied it and left my skin feeling raw and irritated. I passed it on to my Mum who similarly loved it for a day or two but after a few days of use she found that it made parts of her face sting too. It's highly likely, being related, that we simply share a similar allergic reaction to an ingredient in this product so while I can't personally recommend it, I seriously doubt that it will affect all users in the same way. I'd love to know if you've used it and got on better with it than I did.
Finally, the Radiance BB Cream for normal / combination skin. Wow, this stuff I absolutely loved. BB creams seem to be all the rage just now. It stands for blemish balm or beauty balm, and the premise behind the product is that you use it as an all-in-one facial cosmetic product, replacing moisturiser, foundation and sunblock. I'm never all that convinced by products which are accompanied by grandiose claims that they can replace all the other products you've come to love, but this one lives up to that hype. It's really good value for money at £5 - I've been using mine for over a month and it still hasn't run out. I find I really don't need to use moisturiser or foundation with this stuff - I just apply a pea-sized amount of this after  I've washed and dried my face and I'm pretty much ready to go. A quick dab of bronzer or blusher and I don't even feel the need to wear any more make up. It gives me a bright, blemish-free complexion without looking overly made up, and offers a really light, even coverage which feels much less heavy and gloopy than foundations. For an evening look or when I've got time to make a bit more effort it also works as a really brilliant base for more make up but you don't need to add foundation or any other base products to it. It has totally replaced several of the bottles that were cluttering up my dressing table, and I love the ease of only really needing one product in order to feel ready to face the world in the morning. I can't recommend this product highly enough - it has definitely become a staple must-have product for me, and one which I'll definitely be replacing when it eventually runs out.