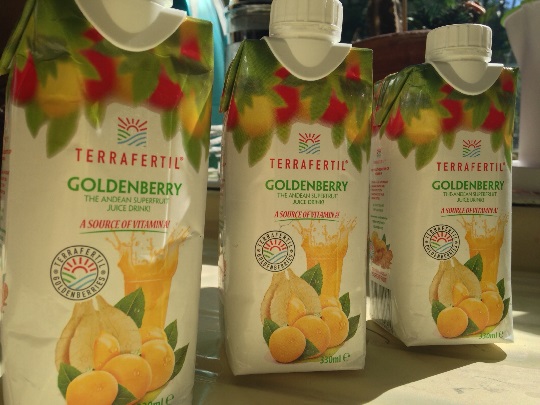 Another kind of juice has hit the shelves, and it promises all sorts of massive health and energy boosts. This time though I'm not ho hum about it. In fact I am hugely excited about this juice from Terrafertil.
Where I grew up in New Zealand we called these berries Cape Gooseberries, and they grew in my parent's garden. I loved these berries so much, the flavour is unique and simply delicious. They're also called Physalis fruit, and you'll find them in supermarkets sometimes. They are a gold coloured berry hidden inside a papery 'cape'.
The fruit have a pungent, strong, and very unique flavour that you savour slowly. If you like big, juicy, beefy tomatoes, for instance, you'll probably like these fruits. Repackaged as goldenberries (which to be fair they are, and it is a nicer name), I was insanely curious as to what on earth they'd be like as a drink. Read on to find out all about Goldenberry Juice.
Pungent and strong are not two words that have attracted any of my children to drinks or indeed food of any kind. So let me tell you straight off that the juice of these berries is much milder than the flesh, and while there's that sort of hint of a stronger flavour still there, the juice is more like a mango juice but without that slight, sharp tang.
So in short, Goldenberry is my new favourite drink. This stuff is utterly delicious. I did very reluctantly share with my 9 year old son. We also made some ice lollies with the juice. My only complaint is that this juice is made from concentrate, which is not the sort of juice I choose if I can help it. I prefer juice made from pressed fruit. There's no added sugar, which is good, and the drink is loaded with Vitamin A.
I received the 330ml packs (£1.56 each at AuraVita), which were perfect for taking camping with us. Especially as the lids screw back on again.
Goldenberry fruit come from the Andes. The juice is packed with antioxidants and Vitamin A, made from 100% all-natural ingredients and as well as no added sugar, there's no additives or preservatives.