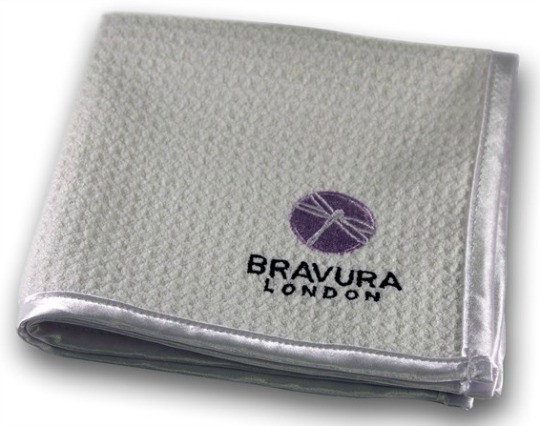 The Bravura DermaFlannel (£11.99) looks like a regular flannel but it's said to work in the same way as a chemical peel or microdermabrasion treatment. The press release promises that it will 'leave the skin looking fresher and smoother, and that regular use can clear imperfections'.
Made from millions of microfibres that are no thicker than one hundredth of a human hair, the DermaFlannel can supposedly penetrate the skin's pores, giving a deep cleanse. It also works as an exfoliant, helping to diminish blemishes, pigmentation, fine lines, dry skin and - get this - even wrinkles. It can be used anywhere on your body and apparently you get better results the longer you use it. Because of its exfoliant properties it's recommend that you use an SPF product daily to protect your skin whilst using the DermaFlannel.
I have to admit to being pretty sceptical about this at first. It sounded like the e-cloth of the face flannel world to me, and since I don't suffer from 'problem skin' (beyond the fact that my face, sadly, isn't Miranda Kerr's) I wasn't sure this would really do much for me. But seriously, much as it pains me to claim that anything hailed as a beauty wonder product actually lives up to the hype, this totally does.
I was fairly convinced it was just a bog-standard flannel but my skin felt zingy and softer almost immediately after use, and after several days of using it morning and evening my skin was in tip-top condition. Still somewhat baffled by this magic flannel, I tried it on a patch of extremely dry and inflamed skin on the back of my hand, which no amount of expensive creams had been able to fix. And low and behold, within hours my hand was as soft as a baby's bottom.
I still don't really get exactly how this works but there's no denying that it does, and I won't be giving mine up without a fight. Forget the fountain of eternal youth - I think this might be the next best thing, and so much easier to get hold of.