Reusable shopping bags are great in theory, but when you're already lugging around your handbag and a nappy bag, adding a third one to the mix just sounds like a headache.On top of that, reusable bags such as those available from the supermarkets tend to be functional rather than fashionable, which means you're only likely to use them when you have to.
That's where the Re-Uz carrier bag comes in. It's lightweight and durable, but more importantly it's stylish enough that you can use it as a general shoulder bag or handbag in its own right.
Josoblu, the company behind the Re-Uz carrier bag, makes a wide range of Re-Uz bags and accessories, from carryall travel bags to cosmetic bags. The Re-Uz carrier is one of the most versatile of the options on offer, and with a retail price of £6.99 it's cheaper than your average handbag.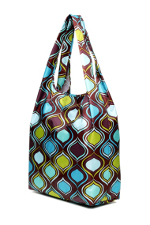 There's nothing complicated about what it does: it's a shopping bag measuring 29cm x 36cm x 14.5cm, with a small internal pocket and a handy 11cm x 11cm pouch you can fold it up into when not in use.
I was sent the Brown Garland design, which features green and blue garlands on a brown background. Impressively, though, you can choose from a total of 34 different designs, each one different to the last and in a rainbow of colours.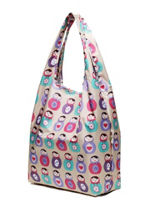 It's completely waterproof, so there's no chance of ruining it – or anything inside it – if the heavens open while you're out and about.The weatherproof material also means it can be easily wiped clean.
Twin straps mean you can carry the Re-Uz carrier over your shoulder or by hand, although to me the straps are a little short when you're going for the over the shoulder option, but for someone with a smaller frame, that shouldn't be a problem. It could hamper men from using it over the shoulder though.
The bag folds up neatly into an impressively small package when not in use, and comfortably fits the matching 11cm x 11cm pouch, which can be clipped onto the bag itself when open to avoid the risk of losing it.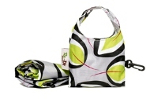 The size of the pouch and the almost non-existent weight of the bag makes it perfect for carrying around spare in a handbag until you need it. And when you do, the fact that the pouch matches the design of the bag inside it means you won't mistake it for something else.
The Re-Uz carrier is a simple product with a simple purpose. There's no shortage of reusable shopping bags out there, and most of them are cheaper than the Re-Uz, which could count against it.
But where the Re-Uz carrier stands out from other reusable bags is in the huge array of gorgeous designs and patterns you can choose from. It means you'll almost certainly find something you'll like – in fact I can't pick out any I don't like. As a result you're likely to use it far more than you would your standard reusable bag, which means you're getting plenty of value for your money. 
I also find that when I'm just popping out of the house and don't want to take a full nappy bag with me, grabbing a reusable bag with a nappy, wipes and a small snack much more convenient and I'm not walking around advertising whichever product or store sponsored the bag I grabbed, and I really like that.
The Good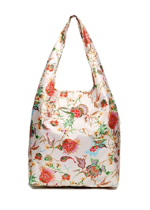 They're reusable, which is better for the environment, assuming you actually keep using it for a long time, which its strength and durability assume you will
The Re-Uz carrier is small enough folded up that you can easily keep two or three in your nappy bag or handbag - if you're anything like me you head out to the shops and forget all your reusable bags or end up leaving them in the car. If these are in your handbag, then when you get to the checkout and remember your bags, you'll have them right there!
Reusable shopping bags in funky designs? Yes please! As I said above, the fact that you're not walking around as a walking advert for *supermarket of your choice* or *product of your choice* is fantastic - although I also think it's great when companies offer reusable bags rather than just plastic! I also like that there are loads of options to choose from, and they do more than just shopping bags
The Bad
The shopping bags are more expensive than your standard reusable bag. You have to really commit to reusable when you go for Re-Uz carriers, because they do cost more than the average bag, and considering you often get reusable bags for free, you have to actually want to spend money on a bag.
The Verdict
These are great bags and if you're in the market or a reusable bag and a stylish one at that, then you can't go wrong with Re-Uz.