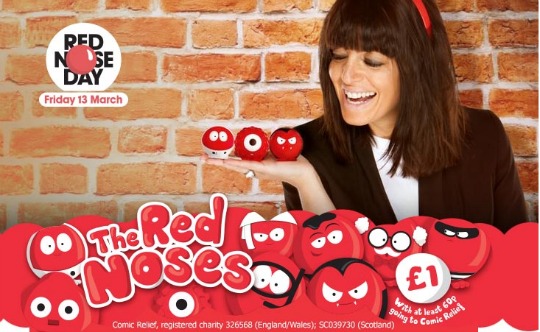 It might seem like a long way off, but we know how time rushes by when you're running round after little ones, so here's the details for Red Nose Day 2015.
It's on Friday 13th March, just 4 weeks away, and the build up starts tonight with The Great Comic Relief Bake Off on BBC 1 tonight at 8pm. I'm really looking forward to watching Sue Perkins have to deal with Jennifer Saunders, Joanna Lumley, Dame Edna and Lulu! Looks like great fun, though I think we might get more laughs than baking tips from this version of the show.
You can also order your FREE Fundraising Kit on the Red Nose Day website, which is packed full of ideas, posters, stickers, sponsorship forms, recipes and loads more to make sure that you have all the help you need to organise your fundraising.
The Red Noses* themselves are pretty wonderful this year, as they are character ones that you buy in a sealed bag and you can collect. I love the astronaut and the vampire - so cute!
The chances are your children's school is already having an event, but if you want to do your own as well then every little bit of money raised will help the charity.
If you are wanting to buy merchandise to show your support then you can buy Red Noses are £1 at Sainsbury's* and Oxfam stores, and there's clothing at TK Maxx*. There are also Red Nose Pens* for £1 at Ryman, a Red Nose Day Teapot for £4.99 at Robert Dyas, and you can get a Car Red Nose* for a £5 donation from Toyota.
Al the details of everything that's happening, the charity's aims and who it helps, plus how to get involved are all on the Red Nose Day website.