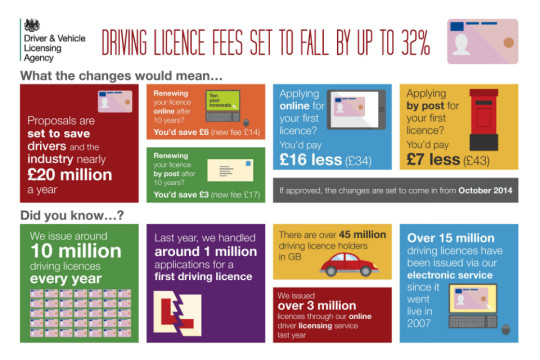 If you're due for a driving licence renewal, or even if you are about to do your driving test for the first time, or want to do practice tests, hold off till the 31st of October, and you'll have new lower rate to pay, so it may be worth holding on.
At the moment your licence renewal will cost you £20. After next Monday, it will be down to £14. 
As part of the proposals, drivers who apply online for their first driving licence would see the fee drop from £50 to £34. Drivers who renew their licence after 10 years would see the fee drop from £20 to £14. All driver tachograph cards would fall from £38 to £32.
The new fees, representing price cuts of up to 32%, begin on 31 October.
Other fees being considered in the DVLA review include vehicle first registrations and duplicate registration, but there's no confirmed news on that at the moment.
I'm sure the price of something else will be going up soon, to counter the £18 million that drivers will be 'saving', but in the meantime, I've got £7 in my pocket when it comes to renewing my license next month.
Thanks to darren_scotland at HUKD