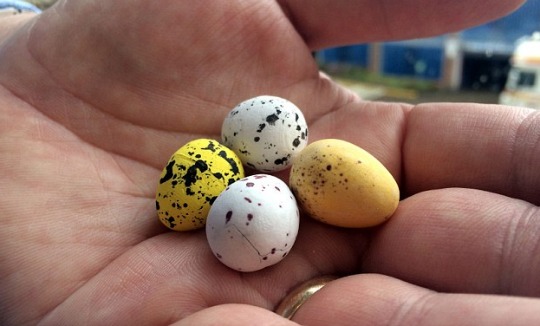 Poundland have withdrawn packets of decorative eggs from all their stores because of concerns that they could be mistaken for sweets by children.
There was an investigation by trading standards officers following a complaint by a customer about the packets of small Easter eggs made of polystyrene that look like Cadbury's Mini Eggs.
In fact they look so much like Mini Eggs that the pictures being used in online reports have been frequently mislabelled, including by major newspapers. The picture above shows two Cadbury's Mini Eggs alongside two of the decorative ones.
A spokesperson for Poundland has said:
Poundland is the first retailer to recognise these concerns and has taken every step to ensure this product could not be bought as food by mistake. The packs have been removed as an extra safety precaution.
Although there have been no reports of children choking on these decorations the decision to remove them from shelves as a precautionary measure has been welcomed by Trading Standards. Parents are advised to keep them away from small children.
Picture credit Bucks Trading Standards