PlayPennies Loves...Working Mum On The Verge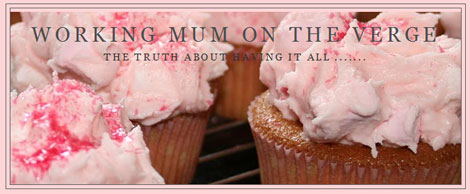 This week PlayPennies loves...Working Mum on the Verge.
I knew this was a blog for me when I read the 'bits down the side'...
...lives in Manchester, UK. Has full-time job, 6 year old daughter and a football obsessed husband.

Tries to maintain her sanity by singing in a renowned choir in spare time. Would like to have it all: fulfilling career, well adjusted child, perfect marriage and beautiful home.

So far have achieved stressful job as teacher, demanding daughter, 16 years of marriage and an old house that "we're doing up
I'd love to have my cake and eat it too - some people would say I already do (eat cake that is!) - and it's always nice to know that it's not just me.
The new school year has started and reading the list of 'must haves' and 'need to gets' that Izzy has come home with already, made me laugh.  It gets less as they get older - the most I have to remember for The Teenagers is two £1 for various mufty days that happen now and again!
Did you read ALL the 'bits down the side'? No..? *sigh* OK - well, there's a bit of a family tree and these two entries made me giggle...
Mum - J - still working, understands plight of working mum
Mother-in-law - Reen - stayed at home since 1966, doesn't understand plight of working mum
You can already imagine can't you *grin* My imaginings turned out to be right when I read The Secret of our Marriage? post.
I reckon I might have been an Estate Agent in a former life! I absolutely adore looking at other people's houses especially at Christmas time when people leave their curtains open in the evenings so they can show off their newly decorated trees.
Working Mum's house has been undergoing a 'few' alterations over the last couple of years and I really enjoyed flicking up and down the 'before and after' shots - definitely house porn, as she so accurately described it! (Keep scrolling down to see them all).
If you're at a loose end this Sunday afternoon then you've posts going back to 2008 to dive into - get some cake!
Are you the owner of the blog above? Click HERE for our resource page for "PlayPennies loves" badges and banners.