PlayPennies Loves...Mila's Daydreams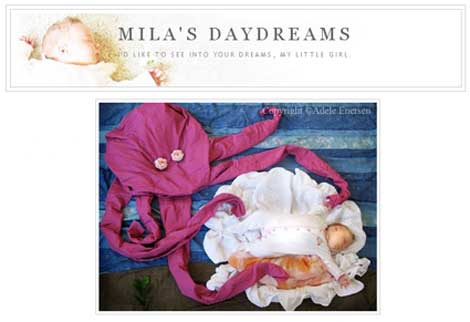 This week PlayPennies Loves...Mila's Daydreams.
A TOTALLY different blog this week and one that might just get your creative energy flowing too.
There's no need to settle yourself in for a reading marathon today - although you can still have the obligatory coffee with whichever sweet chocolately Hob Nob type things takes your fancy - because this blog is a visual feast of loveliness.
Mila's Dreams is the self-described maternity leave 'hobby' of its creator, Adele Enerson.  Her concept and idea is simple and beautiful, "While my baby is taking her nap, I try to imagine her dream and capture it."
What do YOU do when your baby is sleeping..?
I've played the photographing babies whilst their asleep game a lot both for work and for fun - the last family christmas card was a picture of my youngest asleep in front of the open log fire, under the Christmas tree having fallen asleep writing a letter to Father Christmas and leaving out a mince pie, a glass of sherry and a carrot for Rudolph, complete with Father Christmas (it wasn't really him) reaching into the shot to take the glass.
It took three days to set up and shoot! The photographs in Mila's Dreams are shot in only a few minutes, "I use only few minutes per picture, including creating idea, implementation and editing, 'cause I don't want to disturb her sleeping and most of my time is for my family."
I've turned the photographer off in my head so I can just enjoy them for what they are and that is fun! Both fun to turn the photographer off and the pictures are FUN too!
Adele has created beautiful memories and images to look back on when Mila is all big and grown up and stomping around the house during those petualant teenage years - there's scope there for a whole NEW set of photos!
They remind me a little of Anne Gedde's work - the idea of taking sleeping babies and putting them into a 'different world' - maybe we'll have a new Anne on our hands in a few years time, who knows!
I have a couple of favourites:  Bookworm (I'm not the only one who likes this one, this post has 145 comments so far; it was only posted five days ago on Tuesday 27 July!) and The Rain of Roses.
Go and take a leisurely stroll through Mila's Daydreams and maybe you'll feel inspired to come up with some daydreams of your own.
Are you the owner of the blog above? Click HERE for our resource page for "PlayPennies loves" badges and banners.