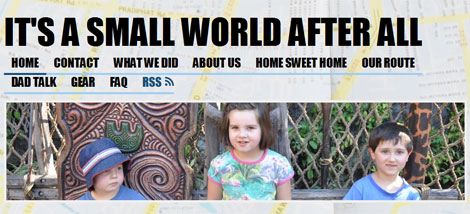 This week PlayPennies Loves...It's A Small World After All
If you didn't have itchy feet to travel before you opened this post, you will have by the time you get to the end.
MEET Stephen, Victoria (mum and dad), Eve, Edward and Dickon - a family of five from London who left UK shores back in November and embarked on a nine-month round the world trip!
HOW FANTASTIC IS THAT!?
They're currently in Australia and aren't due back in Blightly until July - you can see their intended route and destinations HERE.
The kids are eight, five and four years old and whisking them off on a round-the-world tour raises lots of questions and you can read the answer HERE, along with all the other most common questions that people ask when you tell them you're off to travel the globe.
There are so many adventures and photographs to look at it's impossible for me to pick out any favourites - I'm mesmerised by the sheer adventure of it all along with wanting to rush upstairs, pack my case and nip off on some travels of my own!
If you can't pop off on a round-the-world trip of your own, do it virtually and tag along with everyone over at It's A Small World After All.
Are you the owner of the blog above? Click HERE for our resource page for "PlayPennies loves" badges and banners.