PlayPennies Loves...Hot Cross Mum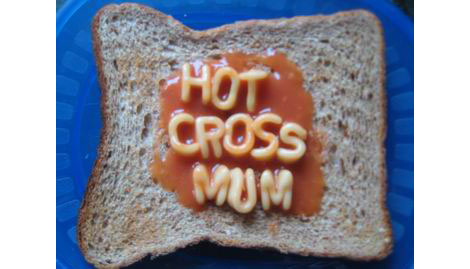 This week PlayPennies Loves...Hot Cross Mum
I must confess that this is my favourite part of the week, I mean let's face it who WOULDN'T want to get paid for reading funny and interesting blogs?!
Granted I'm not going to be able to shut up shop and move to a penthouse appartment on Monaco just yet, but there's nothing quite like grabbing a cup of coffee on a Sunday morning (it's 8.55am as I write this) and spending a fair bit of time rifling through each week's featured blog to bring you a few gems from the author.
This week we're TOTALLY loving Hot Cross Mum - my immediate thought was of warm fruity delicious smelling buns with butter melting through them so it was almost impossible not to stop by and pay her a visit.
I sat and chuckled and laughed out loud through almost every post I read,  not just 'LOL'ing but proper involuntary laughing-out-loud that made the dogs jump and The Teenagers roll their eyes.  Wry humour abounds and when you're not laughing you'll find yourself nodding along in 'yep, that's exactly how it is here too' agreement.
It does seem we're a mystery to our kids at any age - The Teenagers just think I sit at the computer all day and 'play' on the Internet - but Hot Cross Mum's hubby seems to be a bit of an enigma to them all...
"To be honest, I'm not entirely sure myself what my husband does every day. He has me completely baffled by his daily routine of disappearing just before the kids wake up in the morning and failure to return home before they are tucked up in bed. Hmmmm. Perhaps my four-year-old can help me out...." click HERE to find out just what the four-year-old really thinks his daddy does.
Ohhh there are SO many posts I want to draw your attention to, but time and space are limited so you're going to HAVE to pay Hot Cross Mum a visit of your own, but the best laugh-out-loud moment came from the Extreme Parenting post.  Here's the very edited highlights of the post which offers the edited highlights from an article promoting a book on 'Extreme Parenting'...
"No nappies from 7 months old
Apparently, this all went really well, as long as the child was 'offered' (?) a wee every hour. What's that you say? Every hour? From the age of 7 months? I'm no statistician but that's a hell of a lot of wees being 'offered' before the child's first birthday. Rudd thinks this was a fantastic idea and says, "there is nothing worse than trying to unpeel a heavy two-year-old's poo bag." Oh yes there is. Trying to scrape up sloppy baby poo off the carpet eight times a day."
You can just hear the tone of voice and see the expression on her face as she wrote this.
If you don't want to watch the football today, get yourself a flask of coffee (so you don't have to keep going to the kitchen; one cup's just not going to be enough, trust me) and drop by Hot Cross Mum's place for the afternoon.
Are you the owner of the blog above? Click HERE for our resource page for "PlayPennies loves" badges and banners.