PlayPennies Loves....All That Comes With It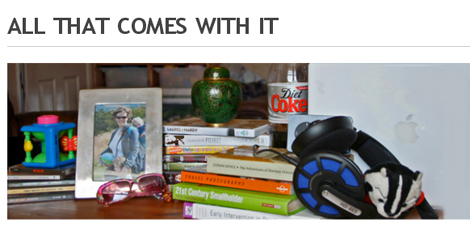 This week, Playpennies loves.....All That Comes With It
This week we're loving a DaddyBlogger; a slightly title-rebellious one who doesn't just blog about his kids but about all sorts of other stuff too which, being a naturally inquisitve person, I really like.
All That Comes With It is written by Dan (33) who lives oop t'North with his wife, Kerry, and their two kids Amy (6) and Evan (2).  I feel it's only fair to warn you that his blog will suck you in  and this comment on the about me page pretty much sums up the reading experience...
"First, I liked Dan's blog. Then I liked Dan. Then I liked Dan's family. Next, I'm planning on liking Dan's country, as long as I don't have to drive on it's motorways."
If you look at this blog today then the first post is probably the most important one you need to read, 'The Great Blogger Conspiracy Revealed' will tell you all about Hadrian's Walk that's happening in July in aid of the Joseph Salmon Trust...
"We're walking in aid of the Joseph Salmon Trust, a charity founded by my friends in memorial to their son Joseph who died aged 3 in April of 2005.  The Joseph Salmon Trust supports parents who have lost a child by providing financial assistance to those who need it most. Please consider sponsoring us. Thank you."
You can then go from this serious post to others that have had me chuckling and giggling into my coffee this lunchtime...
Read about how Amy learned to ride without stabilisers on her own, her current love of makeup and how Dan feels about this as a dad - tsk,  girls hey!
I particularly liked this touching photograph of Evan and Dan and then almost spat coffee over the keyboard when I read the reality behind the shot explained underneath,  something all parents have experienced but rarely captured on film.
If you're into more than just reading about the kids and want to know what other parents get up to in their 'spare time' (I'm using the word spare v e r y loosely here) then go and while away a few hours with Dan and his blog.