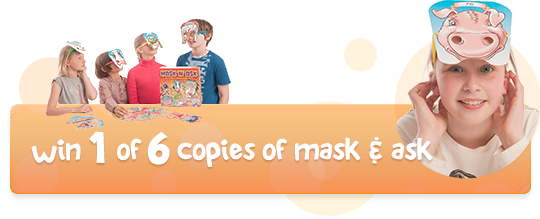 Mask 'n' Ask from Drumond Park (rrp £16.99) is a brilliant new board game which up to four people aged around 7+ can play together.  There are thirty top quality double-sided masks with beautifully designed, colourful animal faces on one side, and jokey-looking human characters on the other.  On the animal side, kids might find a Badger, Crab, or Elephant, for instance. And on the human side, the mask may Princess, Sailor or Wizard.   
Children can play on either side of the board.  Each player has a turn at spinning the spinner – and then asks the other players the question printed on the board, on which his or her playing piece has landed.  For human characters, this might be "Do I wear a helmet in my job?" and for animals it could be "Do I have stripes, spots or a pattern?".  Their opponents have to give 'Yes' or 'No' answers, and the player then places a YES or NO token on the relevant space, to help them remember the answer. This strategy takes away the worry of having to think up a series of questions by themselves, in order to work out who they are – helping children to express themselves more clearly. 
When a player guesses his or her identity, they choose a new mask from the pile – and the first person to guess three masks correctly is the winner!  Certain to be a sure-fire winner this Christmas, this game is cleverly designed and fun for the whole family to play.
You can now win one of these awesome games for your family to enjoy as the nights draw in and the weather gets chilly.
How to enter
What does your child think that you do for a living? Pop their answers into the comment box below and the six biggest giggles or cutest Aaahs will WIN!
Rules:
UK entrants only
Competition period: 02 September 2013 - 12 September 2013
One entry per person
Competition subject to change and admins decision is final in all cases