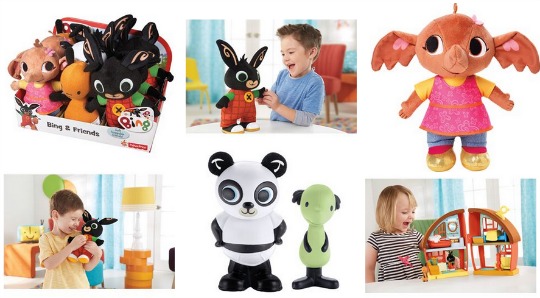 If you have a pre-schooler or toddler then the chances are you know exactly who Bing Bunny is. For those of you who don't then start watching CBeebies after the morning school run and you will see how wonderful it is. The fact that there are toys coming out is great news for all those pre-schoolers and their parents who are fans, and from the Bing Facebook page it seems that there are a lot of people waiting for these!
Right now the only places I can see taking pre-orders are Smyths Toys and Argos, although Amazon will be doing so shortly too. They are expected at Smyths sometime from 29th June to 6th July.
There are a range of toys across different prices, starting at £7.99 for the individual character soft toys (I want Flop!), to the Talking Toys at £19.99, and then there's the vehicles and big house play set too. If you want to go big then the My Friend Bing toy that walks, talks, sings and wiggles his ears will set you back £39.99. All of these prices are the full RRP, but with the demand so high I can't see those prices coming down any time soon.
I just hope they bring out "Flops Guide To Parenting" as well. It would be a massive bestseller I'm sure. I saw one person comment on the official Bing Bunny Facebook page that "I often find myself taking a deep breath and thinking... WWFD", and I don't think that's a bad idea at all.
 Thanks to Ashley on Facebook for finding the pre-order at Argos.