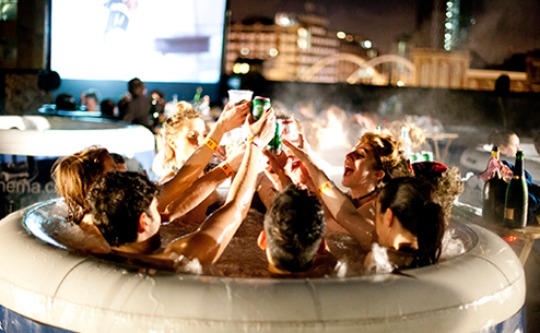 If you don't fancy doing the Slide The City experience this summer then how's this for an alternative - Hot Tub Cinema. Yep, apparently it's a thing, and has been running in London since 2012. You watch a film on a big screen whilst sat in a hot tub in your swimwear, with waiters serving you drinks, snacks and popcorn!
This summer the Hot Tub Cinema is going around the country on it's Tub Tropicana Summer Tour, and will be in Manchester, Birmingham and Bristol as well as it's original home of London.
You can get listings and book tickets on the Hot Tub Cinema website, and as the screenings are pretty small and intimate affairs you do need to buy your tickets well in advance. You can book a whole tub for up to 6 people, or book individual tickets if you're happy to share a tub with strangers.
Tickets for the Tub Tropicana Tour are already for sale for dates in London and Bristol, and Manchester bookings open tomorrow. The Birmingham dates are yet to be confirmed.
If you happen to be in the US or Ibiza this summer then you may be able to catch the Hot Tub Cinema there as well. All the details are on their website here. Anyone fancy going?