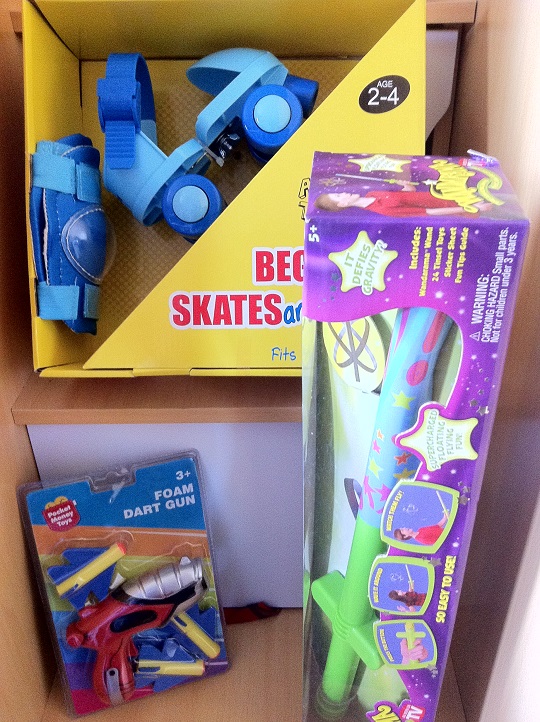 Can you get a good quality toy from the more affordable end of the market? I think so. I've often found excellent toys that are so much cheaper than others simply because they don't have a logo, or TV/movie character stamped all over it.
With things like summer activities, the present drawer and stocking fillers in mind we took a look at three toys on offer at Home Bargains. These were the Wandarama, a pair of Active Toddler Beginners Skates, and a Foam Dart Gun.
Wandarama
This was the most intriguing of the three toys. The Wandarama (£5.99) is a wand that generates static electricity. The product description for this toy talks about defying gravity, and floating 3D objects in mid-air. There's a button on the wand (which takes 2 x AA batteries, and a set of batteries was supplied with our wand) that you press to start it working. You get a packet of tinsel shapes in the box. Apparently you just press the wand button and watch the tinsel shapes hover, swirl, jump and fly.
Maybe there is a special technique for this. I don't know - what I do know is that neither myself, my husband or my son could get this to work.
The site says that when this magical wand is charged with static, it will suspend the shapes 6 to 12 inches above the end. Air currents will carry the shapes while you wave the wand around. To maintain the charge, tap the button a couple of times every so often, or when you notice the shape is beginning to collapse. The wand measures 46cm long.
My son loved this wand. He immediately played with it, even before we showed him that it could generate static energy. Once he got that going, he spent a lot of time making all the hairs on the arms of everyone in the room stand up. Actually it turns out there's a lot of things you can do with static electricity.
Overall verdict: 8 / 10
Active Toddler Beginner Skates & Pads Set
These are my favourites. My son had these beginner skates, and we gave these ones to his little 3 year old cousin to try out. The Active Toddler Beginner Skates and Pads set costs £7.99.
These skates are aimed at children aged 2 to 4 years old. Have fun skating around on these easily adjustable quad-skates and pad set - it comes in pink, but we received the blue set. You get two matching colour knee pads, and the skates have a quick-release fasten. The skates can be adjusted to fit feet sizes 5 to 11.
These are robust, well made skates. The pair we received survived a week outdoors in the rain, and being thrown off the balcony onto hard tarmac.
Children wear their shoes in the skates, which is much easier for first time skaters and makes them a little less scary to use. There are four wheels on the skates too, which makes them really stable too.
It didn't take too long for our young tester to get the hang of putting the skates on and taking them off himself. There's a sort of screw type adjuster underneath, and kids find it easy to use. Around four different children had a go at these skates and quickly figured out how to adjust them to their feet.
Overall verdict: 10/10