HARIBO have brought out three new sweets for Halloween, so naturally we took it upon ourselves to sample them on your behalf.
First there's the newly crafted Trick or Treat Mega Box, featuring 50 mini bags of Horror Mix. Available from Asda (£2.00 for 400g) these spooky themed gums and jellies are bound to be a hit with trick or treaters. The horror mix sweets aren't all that different from other Haribo offerings, meaning they're basically deliciously addictive jelly sweets, but shaped like bats, frogs, and other similarly spooky shapes.
What we like about the Haribo Trick or Treat Mega Box is that it solves all your trick or treat dilemmas. With a handy hole in the top of the box so that trick or treaters can pop in a hand in to pull out an individual bag of sweets, there'll be none of the usual dithering on the doorstep while a gaggle of ghoulish little people deliberate over which of the sweets on offer to go for. Plus who doesn't like Haribo? I've never met anyone yet, so I reckon a box like this is ideal for getting shot of your trick or treaters nice and quickly tomorrow night.
I also like the fact that the sweets are mini bag sized, so you're not sending the trick or treaters away empty handed but neither are you loading them up with piles of junk which their parents won't thank you for.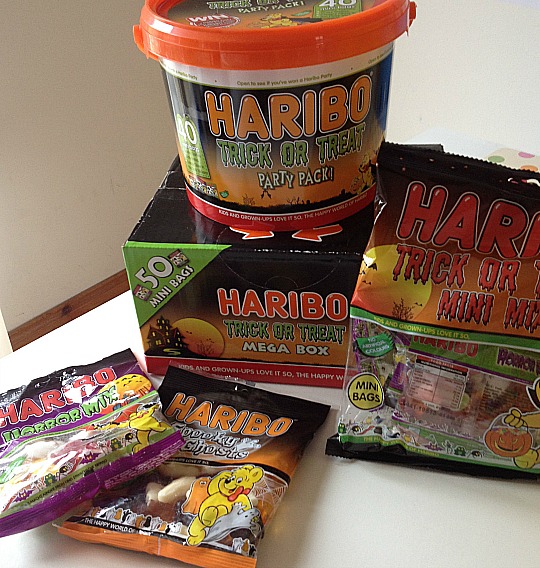 Next up we were asked to review the Haribo Trick or Treat Party Pack. This isn't brand new - in fact it's making a return this year but with 'an extra special party treat for little tricksters'. Available from Tesco at a special purchase price of £5.00, you'll find 40 mini-bags of horror mix packed inside the Halloween bucket. As for the party extras, the press release also promised us "scary games, petrifying glow-in-the-dark stickers and a medley of bloodcurdling party invites" but I have to admit that I'd be a little bit disappointed with those extras if I'd spent a fiver on this.
There are eight rather small party invites inside (which were no use to us as we don't have any plans to throw a Halloween party) and the stickers certainly aren't petrifying either - there's a ghost, 2 stars, a bat, a spider, a cauldron and Goldibear, and also one sticker of each of the words 'Eek!' 'HARIBO' and 'Boo'. Alas, my kids were underwhelmed by the stickers, and inevitably argued over who would get which ones.
The four game cards are a cute idea but again, they wouldn't be enough to make me feel as though I'd got my money's worth if I'd bought this bucket hoping that those extras would help make a Halloween party complete.
Personally I think the box is better value than the bucket (you get 40 packets of sweets in the bucket but 50 in the box) but of course kids can't resist the appeal of the bucket, and you can always use it as your very own Haribo container thereafter. I might encourage my kids to stash their spoils in here when they get back from trick or treating. And yes, I might charge them a small storage fee. In the form of first pickings of their sweetie horde.
But my children loved the fun of the box too - they felt it was like having their own sweet shop, so I'd still recommend the box over the bucket if you're in two minds.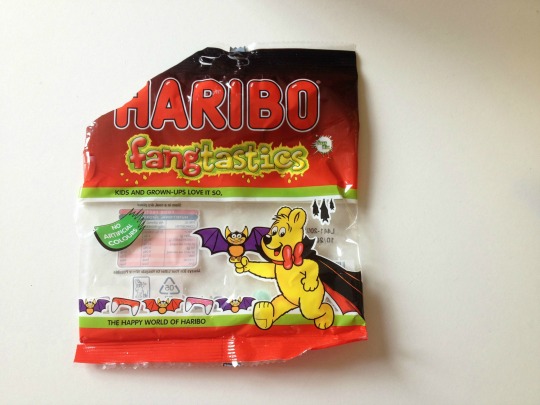 Finally, we were asked to review the new Haribo Fangtastics sweets - a tasty twist on the Tangfastics. Available in 200g sharing bags from Tesco (200g for a special price of £1.00) these apparently have the same 'tang' of Tangfastics but with a bit more bite. But unfortunately I can't tell you much about Haribo Fangtastics because despite my strict instructions to the kids not to dive into the sweetie stash until my review was organised, it seems my husband was overcome by temptation. The look of guilty pleasure on his face when I discovered the empty packet tells me it was an enjoyable transgression, though.
Pros: Kids love Haribo. (So do adults, it seems.) The Halloween-themed sweets are great for sharing with trick or treaters, and the Trick or Treat mega box is ideal for getting rid of little scarers quickly. Just offer the box and let them dive in.
Cons: The Party Pack doesn't have much more going for it than the Mega Box (which comes with more sweets) apart from the orange tub, so I'd invest in the Mega Box for better value for money.
Overall verdict: Scrumptious options for your Halloween and trick-or-treat antics.