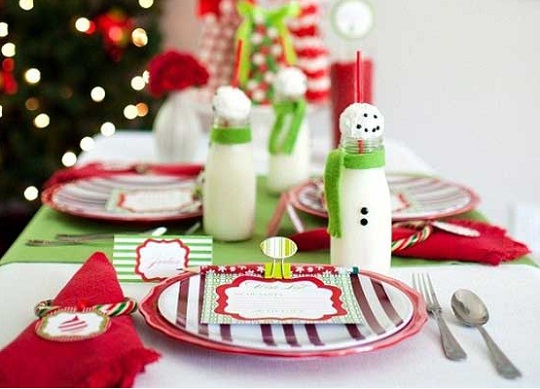 We're in for a frugal Christmas this year, like most families. But we're purposely making it even more on a budget this year a family are all doing things elsewhere. So will be just hubs and me, plus son on the day. We need to save our money to do all the trips around to visit family just before and after Christmas!
I want to make the table that something special though even if the food we're putting on it this year isn't so far beyond a normal roast dinner. To be fair to the kids, they don't really care what the food is as long as there's lots of their favourites, stacks of pudding, and lashings of sweets. It is the turning the everyday into something special that makes the difference.
So I figured why not turn the dining table into something really special this year, using ideas that are cheap to put together, if not free, and some crafts I can do with my son.
Having scoured the internet, asked my friends and family, and browsed through some books at the library, here's a few of the fun and fabulous table dressing ideas I found.

I want to try and co-ordinate everything. Our good dinner set has a lot of red in the decoration, and the tablecloth I plan to use is an Old English White with hints of a soft green pattern. I say tablecloth, but in fact it was meant to be a curtain. This off cut of material I found in the haberdashery at a local department store is what set my whole idea off. It only cost £5 and the material is a gorgeous linen. It looks simply superb on the table, and sets off crockery and glassware beautifully. Yes I've already tried it out!
I got some webbing to use to hem the material, as it was slightly the wrong size for the table. I very nearly bought another off cut of material in a slightly darker version of the green in these curtain, with the plan to use it as a runner down the middle, but then thought it might be too much.
I do like the idea pictured here though. It come from a French e-book, so I've no idea exactly what they're doing exactly. I don't read French. But it looks like they've wrapped the table in plain wall paper, or lining paper, and decorated that. Now that's certainly unique. I love how they've drawn around the place settings. The in-laws aren't coming so why not do something fun this year?
What I like about the next idea is the unusual use of evergreen foilage for the centrepiece. Here it is rolled and decorated as a runner down the middle of the table. Ours will be conifer from our neighbours tree, holly from the woods, and red berries from our garden. Same as always, but I have found a tree locally that drops stack of mini pine cones all over the footpath, so we'll decorate some of them with glitter paint too.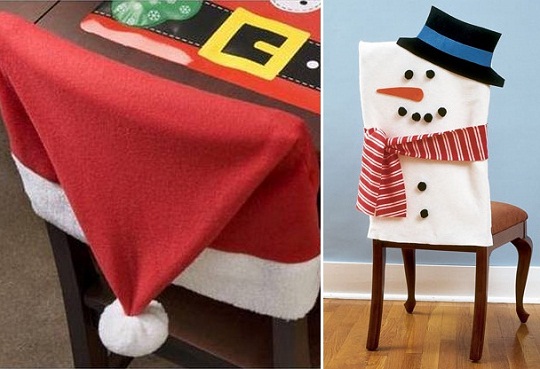 You may well do this every year but I had not ever thought of decorating the chair as well. What a cool idea. I came across the snowman idea above, and just looking at it made me happy. A bit of cheap white cotton, some webbing, and a few accessories and there you have it!
Even a rudimentary sewing job like this one is probably beyond my skills. But I did find the idea below on a site about budget Christmas decorating ideas.
There's no need to go to a lot of trouble though. A table can look special for Christmas on a budget and without having to spend time doing crafts.
Over at Daze of Grace, she has set her table using items bought at the US equivalent of Wilkinson. The overall effect is pretty good. It helps though if you've got dinnerware that is completely plain, or just one colour. Wishing now I never got a patterned one!
There you have it, just a few ideas I've come up with. Or found. I like the idea of having a nice table setting all laid out, to add to the anticipation of the day. It makes a room feel like Christmas, as much as a tree does.
What ideas do you have? Anything you like to do each year? Please share with me here.