Free Competitions: Win A Weekend Away With An Aston Martin DB6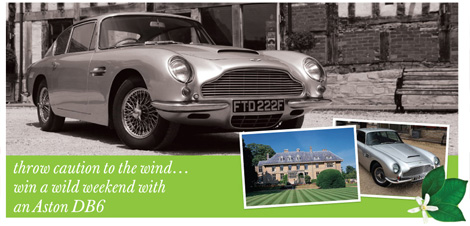 Well competition fans, another week draws to a close - the last offerings for this week look like this...
Get some exercise and some fresh air into your lungs with the help of this rather fabulous Saracen Tufftrax mountain bike worth £250! To enter, just answer the question: What's the smallest frame size in inches, available for the Saracan?
[Expires - 23 July 2010. Answer - 'B' 12 inches]
My first Saturday job was in a bakery and there's nothing like the smell of freshly baked bread. Imagine coming back from a bike ride on the Saracen Tuffrax you won, and walking through the door to the aroma of warm bread cooking in an SD-255 Panasonic breadmaker worth £119! To enter, register and answer this question: What type of flour does the newest programme on the SD-255 Panasonic breadmaker cater for?
[Expires - 27 July 2010. Answer - Rye]
So you're back from your bike ride and you've made GREAT sandwiches from your homemade bread, now it's time to make quick work of cleaning your bike (it was a particularly muddy off-road affair)  with a Karcher Pressure Washer worth in excess of £189.99. To enter, just provide your contact details.
[Expires - 5pm 27 July 2010]
But if none of that takes your fancy, how about what's being billed as the Weekend Away to end ALL Weekends Away - a night each in two stylish hotels in the Cotswolds - Dormy House Hotel and Lower Slaughter Manor - complete with dinner, bed, breakfast and use of one of the most sexy and fabulous cars of all time, the classic Aston Martin DB6.
There are various terms, one of them being the driver MUST be aged 30 or older...sorry to all you youngsters! Other than that, all you have to do to enter is hand over your details.
[Expires - 12pm 29 July 2010]
GOOD LUCK! And do let us know if you are ever one of the lucky winners of a competition we feature here.
Thanks to korkythekat, Reeferman, Blackrod Weaver and GrahamYarwood over at HUKD!