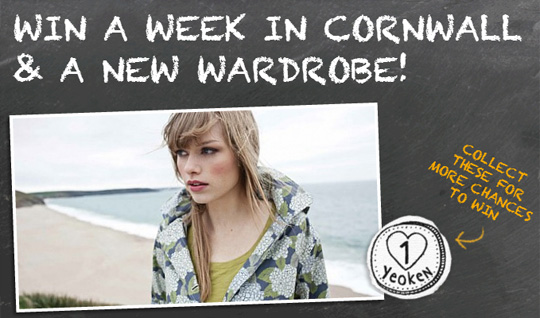 I'm assuming, when they say 'win a new wardrobe' they mean the contents to put in one, rather than an actual wardrobe - mind you, maybe you're in the market for a new wardrobe to hang your clothes in!
This prize sounds rather fabulous, especially if you need a bit a retreat by yourself: a week's holiday in a rugged stone cottage on the banks of the peaceful River Fal and £500 to spend on Seasalt clothes. 
Awesome - I'm picturing being wrapped up in warm, soft, cosy clothes, sitting in front of a crackling open fire with a glass of red wine, a HUGE bar of chocolate whilst listening to the evening play on Radio 4!
You just need to register and log in to enter, and you need to do that before 30 November.
If Cornwall doesn't do it for you, how about a three-night, five star holiday to Rome?
You'll win three nights at the five-star Radisson Blu Hotel in Rome, Italy, on a bed and breakfast board basis including return flights.  Included in your prize is a 'The heart of ancient Rome elite walking tour' with an expert guide - apparently they'll bring the past alive for you!
Now, you're going to have to do a little more than answer a naff question to enter this one - you need to write a blog post that's no longer than 350 words over on the competition website on: The best place for a winter break.
You've got until 30 November to do it, so get writing! 
If you don't fancy going away, then perhaps £500 to spend at Jigsaw will entice a competition entry out of you - it won't buy you much, but it's better than nothing!
There's not much more to say about that really, other than the answer to the question is: Alexander McQueen and the closing date for entries is 27 December.
GOOD LUCK!
Thanks to pjj1805, stillers77 and marba01 at HUKD